January 7 2004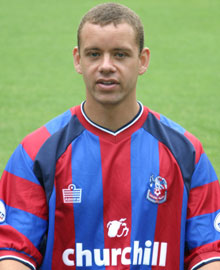 Jamie Smith says it was only the reaction of the Spurs players and fans that made ref Andy D'Urso flash his red card for his "clean" tackle in the FA Cup defeat at White Hart Lane.
Smith came on as a second half substitute for Palace in the 3-0 FA Cup loss and was only on the field a matter of minutes when his tackle caused a lot of controversy. Ref D'Urso didn't see the incident, then mistakenly sent off Butterfield.
"I've watched the tackle on TV and I think everyone can see that I clearly won the ball," he told Palace World.
"I don't think the referee even gave a free-kick at first but then the reaction of their players and their fans seemed to change his mind. It all built up from there but, for me personally, I felt it might have been a hard tackle, but it was also a clean one.
"I think Butts was shell-shocked when he realised he'd been sent off. The ref was asking Danny who had made the tackle and he said he didnít know. The ref then said to him: 'Well, I'll send you off then.' It was a bit silly really."