April 6 2000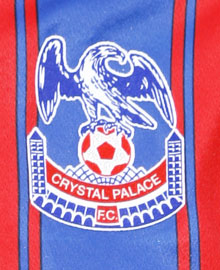 There are nine little words I can guarantee I will hear at some point about an hour or so before kick-off on a Saturday at Selhurst Park, writes Gary Taphouse.
"So what on earth's going on at Palace, then?"
It's a pertinent question, the simple query of a keen visiting journalist writing his or her preview ahead of the big clash. They're not asking me because I'm an oracle on the subject, you understand -
it's simply that I always sit in seat number one in the Palace press box and many wheezing old hacks can't be bothered to stagger any further having already climbed all those steps to the back of the Main Stand.
A young Norwegian television commentator presented me with that little poser ahead of the recent Manchester City match, which was being beamed live back to Scandinavia.
The bespectacled broadcaster had clearly attempted minimal research on Palace's plight and actually seemed surprised they were even in administration, yet alone on the verge of extinction.
(Eddie McGoldrick, who now summarises for Manchester radio, looked on with a bemused grim - just like that "did I really dream that?" time he got two goals at QPR.)
Anyway, once I have finished summarising the main points of the complex behind-the-scenes wrangles, most journos have long since switched off/started daydreaming/lost the desire to keep breathing, deeply regretting they even asked the question.
Consequently I'm convinced I'm gaining a reputation as "that boring Palace arse" on the Division One circuit. Last weekend I was at crazy Craven Cottage for the Fulham derby. The 4,665 Eagles fans were simply magnificent all afternoon, even without a roof.
The press box there is right in among the home fans, which makes for a "lively" atmosphere, to say the least. I've reported from Fulham many times and have often had fans coming up to me asking to see the team sheet before the game.
That's fine, of course, but on Saturday, I had six separate "Cottagers" [sic] come up to me asking to know what was happening at Leeds v Chelsea. And I'm betting they weren't Leeds supporters.
When you're trying to give a live update to five million listeners, the last thing you need is some Chelsea idiot masquerading as a Fulham fan badgering you for score updates.
If that wasn't bad enough, a succession of giggling youngsters followed after the game, wanting the Man U score. Tsk, the suburban glamour of west London. It ain't what it used to be.