April 18 2000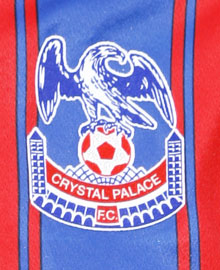 You tend to hear more than a few daft rumours in the Palace press box, but this week I heard an intriguing whisper over cyberspace from one of my Merseyside contacts, writes Gary Taphouse.
He told me that Tranmere are expecting as many as 12,000 Palace fans to make the long trip to Prenton Park on May 7. The thought that that could be the Eagles' last-ever match could well see Palace's supporters totally outnumber the home fans.
But, alarmingly, many Eagles fans I speak to - and certainly most journalists - still believe there is no chance whatsoever of Palace going out of business.
I wonder if Accrington Stanley's fans thought that when they travelled to Tranmere for their last ever league fixture? It can happen, it has happened. And it's a worrying precedent.
Of course, there's a massive week in prospect first and the Eagles will avoid relegation with a win and a draw from the testing clashes with Birmingham, Ipswich and Blackburn.
Saturday's match sees the last Midlands invasion of Selhurst Park this season and it may sound surprising, but Birmingham's sports journalists are among the most knowledgeable hacks in the business and are always keen to co-operate.
There's always a good rapport with their journos and that means you can swap line-ups and snippets of news before the game. One commentator from BRMB, for example, told me that Walsall had spent just £50,000 on players in the last five years in return for me telling him that Lee Bradbury was the last player we had signed for cash.
That wasn't the case with Port Vale last month, though. Vale arrived at Selhurst, you may remember, on the back of five defeats and a draw from six games.
I managed to get hold of the team news from the tunnel a good hour before kick-off, about 20 minutes before the team sheets arrive and after a frantic calculation, I discovered that Vale gaffer Brian Horton had made six changes for the game.
Yet when I told a couple of radio hacks from the Potteries, they laughed hysterically, shook their heads condescendingly and simply said: "I don't think so". Even when I showed them the teams in black and white, they refused to believe it, let alone help me out with the formation.
Needless to say, their sheepish plea for help with the Palace line-up fell on decidedly deaf ears. It doesn't matter how busy it is; the back of the main stand can be a lonely old place sometimes.
*A big thank you to all the readers who have e-mailed me in the last couple of weeks. I have been slightly bemused by one or two of you who seem to think (bizarrely) I want to see the club go under.
That would be like my buying an expensive house over a period of 20 years and then wishing someone would burn it down.