September 18 2000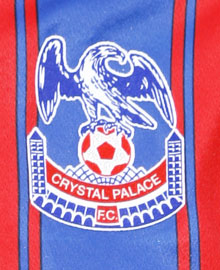 It was heartwarming to see Palace putting in such a brilliant team performance in the first half against Barnsley in midweek, writes Gary Taphouse.
No one can deny, except Dave Bassett it would seem, that Palace thoroughly deserved the three points from this clash.
Nonetheless, a third consecutive missed penalty is cause for concern. That could have been a very costly miss; certainly Julian Gray's missed spotkick against Forest was expensive and this inability to score from 12 yards needs to be rectified very soon. Should the Eagles earn a penalty at Norwich, who will step up? Who would you want to step up?
The striker problem rumbles on, too. With Paul Kitson, Alun Armstrong, Tony Cottee, Matt Le Tissier and James Beattie all ruled out, where next will the spotlight fall?
We've been stung by big name signings in the past, but there must be a temptation to seek out a top frontman for a record fee and hope he can fire Palace above midtable. I'd go for a target man in the Neil Shipperley mould, hence my approval for the Beattie deal.
Unfortunately, the Baggies had not intention of being shackled and should really have been two or three up by halftime.
The sterility up front for Palace has prompted action from the club, and a £3 million bid for James Beattie. I know plenty of Saints fans in the industry and they have mixed views. He was player of the season at the Dell a couple of years back, but questions were raised about his attitude last campaign.
There's no doubt he's a quality forward, and in Division One he could be something very special, particularly alongside Morrison. I see even Le Tiss has been hurled into the equation. The chairman has been true to his word and given his chosen manager money to spend.
Speaking of big names, it was sad to see Sasa Curcic "earning" a trial with Cheltenham Town reserves. His trials in Scotland and then with Tranmere were both failures. How many Palace fans would have him back in the team at the moment? I'd wager quite a few.
He was a big disappointment on occasions, but he was always likely to create something, earn a penalty, crash in a freekick, or just beat a few players and get the crowd going.
Anyway, I'm not going to criticise Alan Smith - I've had some stick from a few of you for my comments in the last couple of weeks. Some fans seem to think everyone who supports Palace should sup-port every decision made by the club without question.
Events in the last two years should tell us that's utter rubbish. Should we have un-reservedly supported the decision to employ Terry Fenwick? Or the decision to buy Valerien Ismael for £2.75 million?
The Norwich and Sheffield United games are extremely important when you take a look at the fixture guide. Coming up are three away clashes at Preston, Fulham and Bir-mingham and a home derby with Wimbledon - all extremely tough matches.
With the three points from the Barnsley match pushing Palace up to midtable, it would be a big shame to start slipping back into danger. Let's see if Palace can make it five wins in a row against the Canaries. A fourth successive 1-0 victory over them would do just nicely.