January 15 2001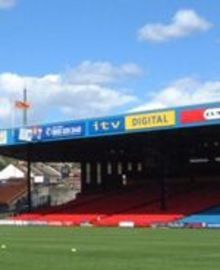 With 15 radio stations broadcasting the match live, it was standing room only for many journalists, including ex-Palace coach Ray Lewington, writes Gary Taphouse.
Ray very kindly joined us on Palace Radio and said he was very impressed with the Eagles' performance.
It was the first time he had seen Palace this season and had some useful words of advice for the second leg.
He believes it will be tempting for Palace to sit back on the edge of the 18-yard box and try and stop Liverpool scoring.
He says it would be much better to try and stop them playing. "I'd like to see them go and put a few tackles in and let Liverpool know they're in a game," he said.
For now we can all revel in the glory of our third victory against Premiership opposition this season.
But as usual, the performance of some of the assembled hacks was as impressive as that of Michael Owen in front of goal.
With Trevor Hayes and myself roaring into our headsets following Palace's stunning goal, one well-known tabloid reporter prodded me in the arm asking me who had grabbed the goal and "was it Hayden Mullins?" Even if it wasn't perfectly obvious we were trying to commentate on the game it would have been a bizarre question.
Meanwhile one out-spoken - and supposedly neutral - radio commentator was thrashing his arms in frustration every time Liverpool missed another one-on-one with Kolinko.
Once again the great Dave Swindlehurst joined us on the station to give us his thoughts on the game. Dave, who famously scored that winning goal at Leeds in our FA Cup run in the 70s, is an articulate journalist these days and always has plenty to say on Crystal Palace. He was quick to once again praise the performance of Clinton Morrison, who was his man of the match "by some distance".
The atmosphere at Selhurst Park was absolutely first class and undoubtedly played a part in the performance. Craig Harrison, so often the target of the boo boys this campaign, was given the sort of encouragement usually reserved for away games and put in a terrific display down the left, even if he was a little caught out for the Liverpool goal.
Once again, a shameful plug for the Palace Radio website www.palaceradio.net where you can hear clips of the goals from the Sunderland quarter-final in case you want to get a taste of what you're missing by not tuning in!
Let's hope we can serve up a repeat performance on Wednesday in the FA Cup - not forgetting that picking up league points must remain the club's biggest priority.