August 12 2000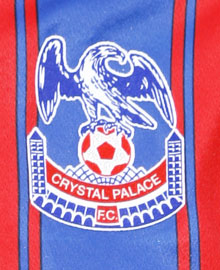 Behaviour psychologists would doubtless find the world of football journalism a profoundly fascinating one, writes Gary Taphouse.
Big press conferences are just like 1970s cocktail parties.
When England played Sweden at Wembley last year in a Euro 2000 qualifier, I was fortunate enough to be at the Swedish training session at the Twin Towers to get some player interviews.
For more than an hour, some of the biggest hacks in the business hob-nobbed like royalty. But when the players appeared, the hacks became fearsome old ladies at a jumble sale, kept at arm's length from the Swedes only by a metal rail.
However, there are times when journos conspire together like playground bullies. You will doubtless recall the Palace v Manchester United game which all but confirmed the Eagles' relegation from the Premiership a few years back under Attilio Lombardo.
Paul Scholes, Nicky Butt and Andy Cole scored the goals that gave the champions a simple 3-0 win.
I was there for Palace Radio and you should have seen the giggling that went on among the press boys and girls when Tomas Brolin lumbered around the midfield.
So it does happen. Hacks do agree sometimes. An event in football when the big names all nod sagely and do not dare to contradict each other.
And one such instance concerns the "departure" of Palace's greatest, most affable and best-loved manager, Stevie Coppell.
My own reaction on hearing of his decision was disbelief, but of course he has since said he was all but forced out by the ambitions of new chairman Simon Jordan.
It is reported that Jordan reckoned Steve needed only £3m to transform the weary young Eagles team into a force capable of mounting an assault on the Premiership, an assertion most onlookers would agree is breathtakingly unrealistic.
Nonetheless, if the new chairman believes Steve had to go in order for the club to move forward, then fair enough. But is taking on Alan Smith a step forward or a step back?
The season in which Smith led the side to the Division One title has a special place in my heart. I was on my "gap year" before university and went to every game that campaign (particular highlights being the wins at Birmingham, West Brom and Tranmere).
But that was then, with the likes of Chris Armstrong, Gareth Southgate, Nigel Martyn etc in the team and enough money in the transfer kitty to ensure even rampant Nottingham Forest couldn't catch us. We are told there is more money now.
I shall be watching Smith and his team with great interest this season. The gaffer said in his regular Observer column last weekend that the play-offs were a realistic aim.
We shall see if the likes of Jamie Pollock and Neil Ruddock are capable of delivering the goods.