January 19 2004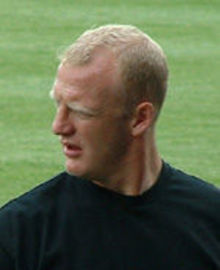 One month into his tenure as Crystal Palace manager and things finally clicked into place for Iain Dowie on Saturday at Vicarage Road.
An impressive 5-1 destruction of Ray Lewington's Watford saw the Eagles move up to the relative safety of 15th place in Division One to leave optimists busy calculating that only 11 points separate the side from the coveted sixth position.
The impact of Dowie's arrival has been plain to see with the team now looking a far more cohesive unit that is growing in confidence with every match and could yet sneak into the play-offs.
Edward Aarons caught up with him to see how he has settled into his new role and discuss his ambitions for Crystal Palace.
How are you finding the job so far?
For my first few weeks here, I was looking at how the lads reacted to my arrival and what they were capable of. The response has been excellent in terms of their ability to work hard under a new regime and embrace new ideas.
The win at Ipswich and the performance against Millwall were both good team efforts, even though we were really unlucky to lose against them on Boxing Day and overall I think we have been progressing steadily in the League, with my ideas gradually being taken on.
Overall, Iíve very much enjoyed my first month here. Palace is a big, big club with great potential and an ambitious chairman who wants to get things right both on and off the pitch and I think that we can achieve this given enough time.
How big a step was it for you moving to Palace from Oldham?
Itís a big step but itís not that daunting for me in terms of coaching because I have had experience in the First Division at QPR. There is definitely a gulf in the technical ability of players but I am trying to combine this with a serious work ethic throughout the club that will result in a good team framework.
Thereís no doubt that Palace are a bigger club than Oldham though, and thatís no disrespect to anyone there.
They had 13,000 in the playoffs last season but we get at least 16,000 every week at Selhurst Park, which would be more if we were up their challenging for promotion. I think that is a good guage of the size of the club and where we should be aiming to get to.
What are your plans for Crystal Palace over the next 18 months?
I hope to produce a side that entertains, creates a vibrant atmosphere and goes on to challenge for promotion to the Premiership, I think thatís what youíve got to aim for. Given time and the right resources, I hope I can achieve that at Palace.
Do you think there is enough talent already at the club to achieve promotion or are you looking to bring in new faces to the squad?
The squad certainly needs adjusting in certain areas. We could do with a young energetic centre-half, although Granville did well last week when he filled in, as well as a goal-scoring midfield player and big strong centre forward.
Saying that though, the players here are all of good ability and I think they can all develop well over the coming months.
Has Simon Jordan said that there is any money available for transfers?
Itís been well-publicised that there is a £450,000 offer on the table for Reo-Coker which shows his commitment.
Thereís no question that Mr Jordan is prepared to back the club and I think if I show him that Iím the right man to take Palace forward he would invest further, thatís the nature of the man.
Youíve bought fitness trainer John Harbin in from Oldham. What impact do you expect him to have on the club?
My regime is very organised in terms of training programmes and they take a lot of implementation. John will oversee the whole fitness programme at the club and heís someone who knows how to get the best out of professional players.
I think he will make a fundamental difference to the players, both in terms of their fitness and their general confidence.
How do you think the Palace fans have received your appointment?
It has been very good so far, although I was very disappointed to take so many to Spurs and not perform like we did.
The Palace fans have been great to me, I think they understand what I am about and hopefully the team will start to respond week in week out to our great support.
Last week against Burnley they were excellent and they kept the support up until the end in what was a very tense and tight game.
Any message to the fans?
Only that I want them to turn out in their numbers. They always received me wonderfully as a player and hopefully the teams that I put out in the future will mirror what I am trying to introduce here: a side that plays attractive football with every player totally committed to the red and blue Palace shirt.