February 4 2004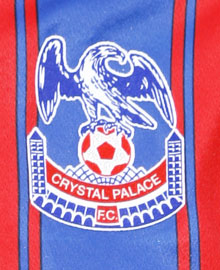 Wimbledon defender Mikele Leigertwood turned down better money to sign for Palace this week in a £150,000 deal, which Dons manager Stuart Murdoch described as a "steal", writes Joseph O'Shea.
The 21-year-old centre back became Iain Dowie's first permanent transfer for Palace, when he signed a two-and-half-year contract on Monday.
A delighted Dowie said: "He's my first signing and I'm going to enjoy working with him. I think he's a big signing for Crystal Palace.
"A lot of clubs were in for him, and good clubs at that, but he showed good standards because he turned down better money than we were offering. He wants to come and play for us."
Enfield-born Leigertwood, has already made 63 senior league starts after spending two months on loan at Leyton Orient in 2001 and two campaigns with the Dons.
Dowie added: "He has got out-standing pace, strength, two good feet. We haven't particularly got pace across the backline. He's a developing player who I think can improve markedly."
The two-and-a-half year contract will take him up to the threshold for new rules governing out-of-contract players under 24, meaning he will not be able to walk away on a Bosman free transfer in 2006.
Having been in administration themselves three years ago, Palace have been quick to capitalise on their former tenants' plight, taking Leigertwood, Michael Hughes and Neil Shipperley, two physios and a fitness coach since the summer.
Stuart Murdoch has been losing players on a weekly basis, but he seems more upset that Leigertwood has been sold for £150,000 than the £500,000 deal which took his 19-year-old captain Nigel Reo-Coker to West Ham.
Murdoch said: "I think Leigertwood has got great potential, he has proved himself in the First Division. He's a very solid, strong, honest player. Whatever we got for Reo-Coker we should have got similar for him. He's two years older but maybe defenders don't attract the same kind of money. But we lost Leigertwood for a steal."
Murdoch also lamented Leigertwood's absence in Saturday's 3-1 defeat because of his impending transfer.
He said: "We missed him desperately and if we'd have had him in the side it might have been different. The big centre half has been a joy to work with."
Former Dons team mate Michael Hughes rates him just as highly. He said: "He's a fantastic centre back and a future England player."
Meanwhile Dowie is still hunting for a goalkeeper after Thomas Myhre returned to Sunderland.
Myhre said: "Thomas has done a fantastic job for us and we would have liked him to come here. It was just a case of finances. He has had one or two opportunities with money we can't match at this present time."
The Palace boss will not reveal his targets, but is hoping to bring someone in before the trip to Sheffield United on Saturday. Last week Dowie did not name a deputy for Cedric Berthelin on the bench, and would have called upon Gary Borrowdale had the Frenchman been injured.