February 5 2004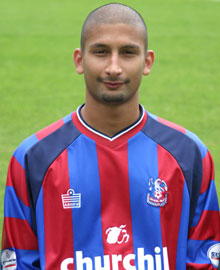 Charlton keeper Sergio Leite was handed a trial in Palace reserve's 1-0 win at Norwich City.
The former Boa Vista and Portugal Under-21 international is out of contract in the summer and impressed with a clean sheet.
Gavin Heeroo got the only goal of the game in the 88th minute as he drilled a powerful shot from the edge of the area which was diverted into the roof of the net off a Norwich defender.
Triallist Jermaine Brown again played well and Palace could sign the former Arsenal youngster next week.
Palace: Leite, J Smith, Simpson, Togwell, Gibson, Dolan, Surey, Heeroo, Soares, Williams, Brown.
Subs not used: Cronin, Conroy, Bashkal, El-Salahi, Hay.
In Depth Reserve news and reports