February 16 2004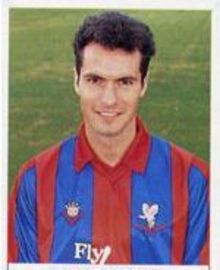 Dave Madden, Alan Whittle, Charlie Cooke, Mark Bright, John Humphrey and Bertie Brown... where are they now?
Dave Madden (1988-90)
After signing from Reading, the midfielder was instrumental in Steve Coppell's side which won promotion to the old Division One.
He kept his cool to score a penalty in the old Second Division play-off final second leg against Blackburn - the most memorable moment in his career.
The funniest occasion for him was: "Mark Bright and I catching a burglar after knocking him over. Mark decided that to stop him from running away he would take the guy's shoes off whilst I sat on top of him."
Before Palace, he had spells at Arsenal, Southampton, Charlton and the Los Angeles Lasers.
Madden left to join Maidstone soon after playing in the 1990 FA Cup final - his career highlight. He became assistant manager there just before they went bust and now aged 41, owns and manages his own property investment firm.
Alan Whittle (1972-76)
Bert Head signed striker Whittle from Everton in 1972 and he had a debut to remember, scoring in Palace's 5-0 thrashing of Manchester United.
He couldn't stop Palace getting relegated to the old Second Division as Malcolm Allison took charge and Head became general manager. He scored 24 goals in 122 appearances for the Glaziers/Eagles before joining Leyton Orient.
Whittle returned to Wirral and can be seen occasionally out and about at the supermarket etc and still maintains his Everton links.
Charlie Cooke (1972-74)
Cooke's impressive displays in midfield for Aberdeen and later Dundee earnt him a big move to Chelsea in 1966. After six years at Stamford Bridge, he joined Palace and chalked up 49 appearances in two seasons.
He went back to the Bridge until 1978 and played for various clubs in the USA then become assistant coach at Dallas and coach at Wichita Wings. One of his major highlights was playing for a World XI Select circa 1978 in the Bernabeau against Spain.
At the age of 63, he's a director in Coerver Coaching in the USA and runs the Charlie Cooke Soccer School in Cincinatti, Ohio.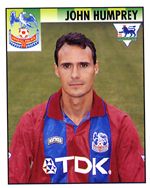 John Humphrey (1990-95)
Humphrey began his career as an apprentice at Wolves. He joined Charlton in 1985 and made more than 200 appearances as a solid right-back for the Addicks before signing for Palace when they returned to the top flight in 1990.
He scored just two goals in 203 games for the Eagles but was part of the club's most successful period. After a loan spell at Reading, he re-joined Charlton and later went on to play for Gillingham, Brighton and Chesham United.
Humphrey, now 43, teaches PE at Whitgift School, in Croydon. At weekends he coaches kids at Charlton's Academy and is a matchday host at the Valley.
Mark Bright (1986-93)
One of Palace's greatest-ever strikers, Bright's goals helped the Eagles to glory in the early 90s. Another astute signing by Steve Coppell from Leicester in 1986, Bright struck up one of the most dangerous partnerships in football with Ian Wright.
His favourite goal was Palace against Barnsley, when he cut in from the right and struck a left-foot shot from 45 yards into the top corner. He was sold to Sheffield Wednesday and unfortunately played for Charlton and Millwall towards the end of his career.
Since retiring from the game, Bright, 41, went into broadcasting for the BBC. He co-commentates on TV and radio 5 Live; presents the sports news on BBC London each Friday and works with Ian Wright on Saturday mornings on 5 Live. Married to former EastEnder and popstar Michelle Gayle.
Bertie Brown
Does anyone remember Bertie Brown? He played in the early 60s with Barry Pierce, Mick Deakin, Jim Saunders and Vic Rouse amongst may others.
He will be 70 in April and is still playing football for the veterans at Bristol City! They are having a party for him at Bristol City's ground. Sent in by Ann Baines
---
If you know the whereabouts of any former players, or can provide us with updated information, then let us know by emailing editor@holmesdale.net