March 3 2004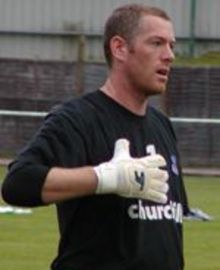 Palace goalkeeper Matt Clarke has confirmed the sad news that a persistent knee injury has forced him to retire at the age of 30, by Joseph O'Shea.
The former Rotherham, Sheffield Wednesday and Bradford keeper managed just four games this season following surgery last year, and went missing with what Palace described as a 'sore knee'.
Signed from Bradford by Steve Bruce in September 2001 for £1.35million, Clarke played 30 games in his first season at Selhurst Park, but despite two operations, knee ligament damage restricted him to just eight more Palace appearances.
Now with two years still remaining on his contract, he has decided to retire.
He said: "I have now retired due to my injury and I am in the process of tying everything up with the club. I played at the start of this season but having been out for a year, I found it was no good and I couldn't carry on."
Clarke was given the option of further surgery, but having twice been out for six months in two years, the prospect of another lengthy recovery period was too much.
He said "Two or three surgeons said I could have another operation. But that would mean being out for another couple of years, taking me towards the end of my contract. I had to take the decision to call it a day.
"I would like to take this opportunity to thank all the lads at Palace, I have some great mates down there and I had some great times.
"It's frustrating when you can't show your full potential through injury but if I had my time over gain, I would still have taken that move, it's a massive club. It's probably the biggest I have been at including Sheffield Wednesday."
Palace boss at the time, Steve Kember tried to fast-track Clarke into goal-keeper coaching, but he decided to head back up North.
Clarke said: "I was flattered by the offer, but it was too much for me at the time. I would like to coach at a younger level to put something back into the game.
"I have a development company with my father and a friend so I might turn my attention to that. After being out for so long you tend to prepare yourself for the worst."
Now Clarke is backing his Palace mates to make the play-offs under Dowie.
He added: "The club is picking up and hopefully they will reach the play-offs this season.
"I don't know Iain Dowie but he has done a great job and the lads are all firing together. If they finish as strongly as in the last few weeks then they will be involved."