March 11 2004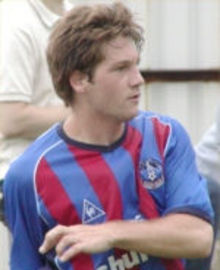 Tommy Black scored for Palace's reserves but they lost the South London derby 2-1 at Millwall.
The Eagles fielded trialist Karl Beckford and he went close early on, while Kit Symons had a header just wide.
But just past the half hour, Palace conceded the first of two penalties. Nathan Simpson tripped Barry Cogan in the box and John Sutton fired in the spot-kick.
Palace were on level terms five minutes before the break when Black beat a defender on the right wing and struck his shot low into the opposite corner.
Three minutes into the second half, Millwall were awarded a controversial penalty when Cogan collapsed to the floor after shoulder-to-shouler contact from Gary Borrowdale.
The Palace players were furious and Sutton stepped up to put the Lions back in front. Black then shot wide and Cronin saved a Sutton effort before Simpson wasted a good scoring chance as did Millwall's Kevin Braniff.
Palace: Cronin, J Smith, Borrowdale, Togwell (Gibson 66), Symons, Beckford, Heeroo, B Watson, Prigent, Black, Simpson
Subs not used: El-Salahi, J Watson, Wilson, Conroy.
In Depth Reserve news and reports