March 31 2004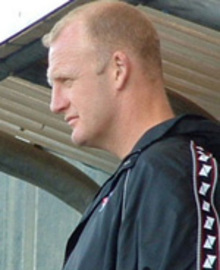 A nine-point gap with eight games to go makes Palace's chances of making the play-offs slim to say the least, especially when you look at the fixtures coming up.
Four of the eight fixtures are against teams above Dowie's side, and if Palace are to make it, they will probably need to win at least seven, if not all eight games. Not impossible by any means, but improbable certainly.
One thing's for sure, Dowie is not going to let the players rest on their laurels and many of them are fighting to remain part of what looks a bright future at the club.
There are also still personal goals to play for, with 21-goal AJ still battling it with Harewood and Earnshaw at the top of the Division One scoring charts.
Then there is a the prospect of youngsters like Tom Soares being given a run out when there is nothing but pride left to play for.
Between now and May 9 there are plenty of cracking fixtures to look forward to, not least the first league visit to Selhurst by a West ham side since the 3-3 draw in 1998.
There's a tasty trip to Cardiff City, and the chance of some sweet revenge over the Wigan side which sharpened the axe over Steve Kember's head.
It may not be over til it's over, but when the fat lady does sing on Palace's play-off hopes, fans will be able to enjoy the rest of the season, confident about next season's chances.
Apologies to those of you who logged on for our commentary of the West Brom game. We were there uploading the latest action, but it was not appearing live on our site.
Rest assured the service will be back to its best for the Rotherham clash on Tuesday, April 6. Join Neil McSteen from 7.45pm.
Log onto: Live Croydon Guardian text commentary
Any comments? If so the Guardian would like to hear from you: email joshea@london.newsquest.co.uk