May 6 2004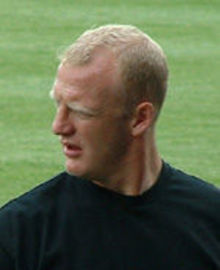 Palace are one point from confirming their place in the Division One play-offs, but James Ball says we shouldn't get excited about promotion just yet...
Palace's most exciting season for five years? Arguably, yes it is. Best team for five years? Arguably, yes we have.
Best manager? Again, yes, we probably have the best manager that any Palace team has seen in the past half a decade. Palace fans setting themselves up for heartbreak? Yes.
What a season! What a climax! Never have I found myself anticipating the final game of the season as much (including Stockport!).
We're the in-form side, the wind in our sails and to be honest we have three perfectly beatable sides surrounding us in the play-offs. So why am I pessimistic? Because we're Palace, that's why.
As a Palace fan I've grown accustom to disappointment, I've got used to leaving there on Tuesday nights in the rain when we've lost to a team that couldn't hold their own in a pub league, and to be honest, I've learnt to deal with the "Who?!" after I tell someone who I support.
I read these boards, the programmes, I hear the chants at Selhurst, and it's as if we've already got our tickets booked up for Highbury.
Until Christmas it was painful to watch Palace. Since then we've had a kick up the backside by Dowie, and lets not forget Kit Symons, and Palace have started raising a few eyebrows here and there.
From everyone complaining how dreary it was, to our over-optimism in one season is a dramatic turn around and I fear for those who've got a bit carried away. Let's just remind ourselves how far we've come and the progression this seemingly once feeble side has made.
If we don't win the play-offs, it's not a failure, it's infact a fantastic achievement from all parties: Dowie, the players, us. If we do lose, it'll take one huge push from us to lift our boys' heads, and for that to happen we can't mope around feeling sorry for ourselves.
We are Palace, First Division, Premiership or wherever else we may end up and I just can't help thinking that although we could do it, there's still that chance we might not and that seems to have escaped the enthusiastic minds of a few.
Feel like writing about a current Crystal Palace issue? Email it to us and we'll publish your words for Eagles around the world to read.