May 12 2004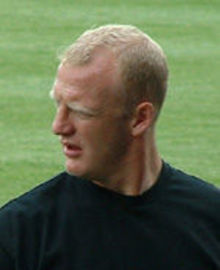 Iain Dowie will not walk out on his Palace contract to join Leeds United or any other club, but he is in no hurry to extend his current deal either, by Joseph O'Shea.
Just six months after joining the club on an 18 month contract, Dowie has led the Eagles from the bottom four into the Division One Play-offs with a remarkable 45 points from 22 games.
So it was hardly surprising when stories linking him with the vacant managerís post at Leeds United emerged last week, just as they did when Gordon Strachan left Southampton in March.
But despite statements from Leeds and Dowie denying the link, on Tuesday bookmakers were still making him 4-1 third favourite behind Kevin Blackwell and Strachan to get the job.
Elland Road director Peter Lorimer said: "Iain Dowie has also been mentioned and is doing well, although he is in a job."
With preparations for two play-off games against Sunderland this weekend underway, Dowie is loath to fuel the speculation.
He said: "It doesnít detract my focus. When the teamís doing well you get interest, thatís the way it is. But at a times like this itís very important to stay focused and I am not going to dignify it with a response.
"You wonít see me speculating about my future. All I will do is pay ultimate respect to Crystal Palace football club because thatís who I am employed by. How that progresses is out of my hands, I am not owner of the club."
On appointing Dowie on an 18 month deal, which runs until next July, chairman Simon Jordan was looking to avoid having to pay-off a lengthy_contract should he have to make Dowie his fifth managerial sacking.
But Dowieís stunning success has made Palace vulnerable to predators, who would only have to pay compensation for one yearís deal, should he decide to walk out like Steve Bruce did two years ago.
Dowie insists he will not break his contract, but is in no rush to extend it either.
He said: "There have been no discussions and I am not expecting any as yet. I work as I work and if I was leaving in the summer I would still be doing the same thing. I have got an 18 month contract and I will work that 18 month contract.
"There wasnít anyone moaning saying why did you only give him an 18 month contract six months ago but now they are doing that because of results. I am not worried about it."
Wife Debbie and sons Oliver, 10, and William, 7, are still based in Bolton, but even if he did sign a new deal, he insists they will remain up North next year.
He said: "Itís an issue, but it has been a benefit in some ways for Palace because it has allowed me to crack on with the work.
"The situation is I was never going to move my family for 18 months and I wonít move them for 18 months. They wonít come down here next year whatever happens."
Contract offers for players and possibly manager have been put off until after the play-offs, and whether Palace are in the Premiership or not, Simon Jordanís ambition to keep his best assets may ultimately decide whether Dowie stays beyond his current deal.
He added: "I will wait and see what deals are done and that will give us some indication of his enthusiasm. There has been a big injection of cash, gates are up and a huge change in revenue.
"But we have got a chance of doing it this season so letís focus on whatís important, rather than my contractual situation, and thatís the future of the club which can be shaped in the next three games."