May 12 2004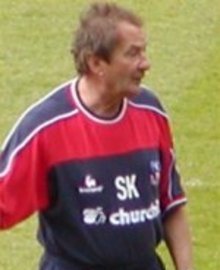 Palace's unexpected play-off involvement has led to a frantic reorganisation of diaries in SE25, not least at the club.
Steve Kember's testimonial last night was a big success, with more than 8,000 fans and over 30 legends turning out for the former player and manager.
Sensibly no first teamers could be risked (although Hayden Mullins did play briefly), so supporters watching the "current" Palace X1 were treated to a line up of youth players and Iain Dowie's quite brilliant Beckenbauer impression at centre back.
It was a great night for Kember and the fans. But they will be extremely disappointed at Monday's announcement that the annual Fans Forum, where they get to question chairman Simon Jordan and Dowie, has been cancelled.
Scheduled for Friday, May 28, the day before the play-off final in Cardiff, every Palace fan will gladly trade in the Q&A for the Premiership, but there are no plans to reschedule.
With Jordan's media embargo still in force and his programme notes a thing of the past, the forum represented one of the only chances for fans to hear the chairman's plans, direct from the horse's mouth.
A fan himself, Jordan has never been shy of facing supporters and always gives a staight answer, even in tough times. So after getting his latest appointment wonderfully right and seeing his club actually achieve something, it is a crying shame that this line of mutual communication should be broken.
There are also burning questions about the clubs future, in the Premiership or not, which only he can answer. Contracts dominate off the field discussion topics, not least an extension to Dowie's 18 month deal (in light of Leeds rumours), but also for AJ, and new deals for eight out of contract players like Julian Gray.
The impact of the play-offs and promotion on the club's finances, a possible move from Selhurst Park and Jordan's own continuing commitment to the club are just a few of the issues fans would love to hear him address.
The marquee on the pitch has to come down, but surely another venue can be found - perhaps for a pre-season forum, where he, Dowie and fans can discuss the Premiership season ahead. Here's hoping!
Back on the field, Sunderland's FA Cup run and the ten day break that afforded Palace at the start of April could work in our favour.
From the point of defeat against Millwall, the Black Cats' form has dipped badly, while Palace's free weekend coincided with the start of their run of six wins in eight games to clinch sixth, as other contenders fell away.
Sunderland's 55 games have also robbed them of four first teamers, while Palace have a fully fit squad after 50. It all bodes well for two massive games on Friday and Monday night.
The Croydon Guardian's award winning kick by kick will bring you all the action from both play-off semi-finals on Friday and Monday night - although the service from the Stadium of Light may be limited. Join Joseph O'Shea from 7.50pm.