May 12 2004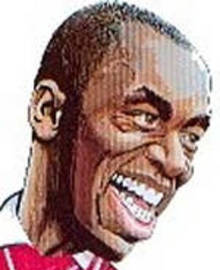 So we made it... by the skin of our teeth. What was unthinkable to anyone who watched the Crewe defeat in December had become possible - we are in the play-offs, by Simon Pophale.
With this in mind, it is pertinent to look back at the previous attempts to get into the top flight. There are similarities and differences, but nonetheless, the play-offs have provided some amazing moments and tragic heartbreak.
1988-89
This was a season in which we missed automatic promotion by a single point. The Ian Wright-Mark Bright partnership was at its most lethal, weighing in with an impressive 58 goals that season. Indeed, it was Ian Wright who had netted 31 of these (sound a little familiar.?)
Although we were 3-1 down after the first leg of the final against Blackburn (the final was a 2 Legged affair, in the pre-Premiership days), the historic second leg on June 3 (surely the latest any play-off final has ever been!) was the biggest game a Selhurst Park since 1979.
Goals from Ian Wright (2) and a penalty from Dave Madden after Eddie McGoldrick was pushed over in the box (a la Tommy Black this season) gave us a 3-0 win which was only secured by Wright's finish in the last few minutes.
Finishing third was a sign of a team on the up. After previous near misses, this was our year. With a home record of 15 wins, 6 draws and just 2 defeats, we had the second best record in the division in that year, equalling that of champions Chelsea.
Away from home we were not so convincing, as the play-off final showed, but a total haul of 81 points and an impressive home record, ensured that we finished 7 points clear of seventh.
1995-96
Third place again, four points adrift of Derby and had we beaten them in the penultimate game of the season, it would have been automatic promotion and not the play-offs again.
Lying 18th place in December (sound familiar??), a management change saw us surge up the table 15 places by the end of the season.
While Dave Bassett galvanised the team with confidence, it was Dougie Freedman who caught the eye, netting 20 goals. All that was needed was a regular free-scoring strike partner. However it was not to be. Again the home form was not convincing. Oldham, who finished in 18th that season, had a better record than us!
The away record was the best in the division, which was the reason why we nearly got runners-up spot. Although we were strong, this was one of the poorer First Divisions in recent years, there was no guarantee that third would get us back into the Premier League, this was no foregone conclusion.
Beating Charlton in front of the TV cameras was satisfying in the semis, but the drama was reserved for the final, where Steve Claridge shinned his way and Leicester's into the elite, while condemning us to another season going to Grimsby, Reading and Southend, rather than Liverpool, Manchester United and Arsenal.
This also signalled the end of the Palace career of Nigel Martyn, who moved the Leeds after the final. A heartbreaking and bitter pill to swallow. Many felt that our best chance to bounce back had now gone.
1996-97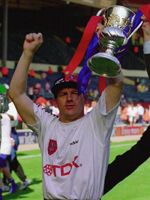 Sixth place and by a close shave, we were there in the shake-up. Once again, a late run took us into the play-offs (need I say but - sounds familiar?), this time at the expense of Portsmouth. We'd scored plenty of goals - who can forget the back-to-back six-goal massacres of Reading and Southend.
At the heart of the goalscoring was Freedman again, but this season he was joined by a certain Neil Shipperley (another similarity). Bassett clearly felt that the forward line needed beefing up and the addition of Shipps turned Palace into one of the top scoring teams in the division.
As it is with Palace it seems, this season saw another management change as Bassett jumped ship to join Nottingham Forest and Steve Coppell took the reins to steer the team into the playoffs for the second season running.
It would be the strikers who grabbed the headlines, Dougie scoring two goals to add to Shipps' header in the defeat of Wolves at home in the first leg, as Palace stormed into the final.
Once again Wembley was the scene of high drama as lady luck, who dealt us the most cruellest of hands one year before, almost to the second, returned to "even things out" as in the 119th minute. David Hopkin, one of the unsung heroes of the season, curled a shot in from 25 yards to send us back to the Premier.
If finishing third was a double edged sword, finishing sixth seemed to remove all the pressure on the team when they entered the semis.
We were the form team (the parallels are getting very scary now!). We didn't have the best home form but we did have an excellent away record. Proof that the form team can go all the way.
This season
So the question remains - can we do it? You can make stats say anything. But the one thing that they do not do is lie.
We are the sixth best team in the division this year, we deserve to be there. It has to be said, that this has been one of the worst 1st Divisions for years, in terms of quality. There have been no runaway teams, and everyone is very capable of beating anyone.
Take Walsall beating West Brom 4-1, although early on, there was no indication of the freefall that they were going to spiral into. Teams such as Forest and Derby, expected to be front runners ended up as relegation candidates.
But this takes nothing away from the oracle that Dowie has worked since he arrived. In five months he has taken a team drifting to the 2nd division, into a team that has self belief, is hungry and is fitter than ever.
Andy Johnson is the Nationwide League's top scorer and he has been aided and abetted by those likely lads Shipps and Doogie.
We have taken some beatings this year (Preston, West Ham and Wigan) but also dished it out too (Stoke, Reading and Watford). You need to be lucky too, but it is better sometimes to be lucky than good, so this could well be our year.
Once again the away record has got us where we are, third best in the division. Dowie has only spent once, but he has changed the ethos of the club. We will, at the time of writing, have a fully fit squad to choose from. Others may not.
Compare the season records:


		Home				Away

Year    P  W   D  L  F   A     W   D   L   F   A  PTS   POS

1988-9  46 15  6  2  42  17     8  6   9  29  32  81     3

1995-6  46  9  9  5  34  22    11  6   6  33  26  75     3

1996-7  46 10  7  6  39  22     9  7   7  39  26  71     6

2003-4  46 10  8  5  34  25    11  2  10  38  36  73     6

It has been very similar with our season in 1996-97, average at home, great away, a management change which inspired an unbeaten run and a late surge to reach the top six and a striker with an eye for goal (Johnson). Indeed, our main strikers have all tasted play-off success before.
Johnson did it with Brimingham in 2001, while Shipps and Doog took us up in 1997. We now have a leader who has galvanised the team and gotten the best out of them. Like Coppell did before him. The next two games now, will decide our season.
One of the most interesting things about researching this article was seeing how many similarities there has been over all of our play-off runs.
For example, the person who scored the opening goal for Palace in 1995-1996 is the person today who is leading us to the semis and maybe the final. It isn't Dougie, or Shipps, but Iain Dowie. He scored twice against Barnsley in 1995 when we beat them 4-3 on the opening day.
That was his last goals in a Palace shirt, before he was sold to West Ham. This season, he returned to lead us into the play-offs.
Last minute goals - in 1989 it was Ian Wright, in 1996, Steve Claridge, 1997 David Hopkin, 2003 Brian Deane (if it wasn't for him, we wouldn't be there) With two wins out of three, could this be third time lucky...?
Roll On Friday!
---
Feel like writing about a current Crystal Palace issue? Email it to us and we'll publish your words for Eagles around the world to read.