May 20 2004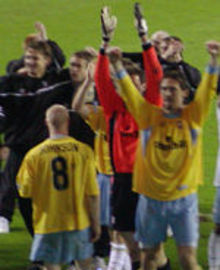 Re-live that memorable night at the Stadium of Light through the eyes of the HOL camera.
After Darren Powell's dramatic last-gasp header and Michael Hughes' winning penalty in the shootout, this was certainly a game which will be remembered for a long, long time.
See what happened from the eyes of the travelling Palace supporters in our exclusive photo gallery.
View the rest of the photos taken this season by visiting our From The Terrace section.
In Depth Palace in the Play-offs 2004