May 20 2004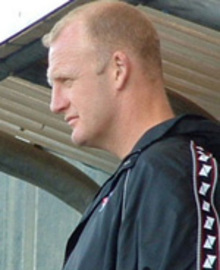 After Palaceís ten men sealed a dramatic penalty shoot-out victory over Sunderland, Iain Dowie said reaching the play-off final was his proudest moment as a manager, writes Joseph O'Shea.
Dowieís side fell 2-0 behind before half-time and their hopes looked to have been crushed when influential winger Julian Gray was dismissed with four minutes to go.
But Darren Powell headed home a last-gasp equaliser and the ten men played out extra time to force a penalty shoot-out. On loan goalkeeper Nico Vaesen saved three kicks before Michael Hughes drove home the winning kick.
A jubilant Dowie said: "Iím as proud as Iíve ever been as a manager.
"You canít find superlatives to describe the desire and determination of the team. Hereís a group of lads who work hard everyday for each other. This is not selfish team, this is a selfless team which puts its body on the line.
"It was a travesty to go 2-0 down at half-time. But we had a chat and went a bit Ďgung-hoí. No-one, not even Mick (McCarthy) would deny us a goal, we deserved a goal, and that took us into extra time."
It was fitting that substitute Powell should score the equaliser in his second comeback appearance, having endured six months on the treatment table with a thigh injury.
Having fought to keep Powell at the club when Reading made a bid in January and taken him on early morning walks to aide his recovery, Dowie was delighted.
He said: "Powelly has had a harrowing season but he comes up with a goal.
"People say heís going to Reading but that was never my intention. I felt he had a role to play and thatís why I brought him back into the squad."
The one blemish on a perfect evening for Palace was Julian Grayís dismissal which means he will miss the showpiece final on May 29. Gray's second yellow was warranted for a rash swing at Jason McAteer, but the first after 15 minutes, looked an accidental tangle of legs with the breaking Sean Thornton.
Dowie said: "Julian can be very proud of his nightí work. The first one was not a booking, and I would like the referee to have a look at it. The lad didnít deserve that and itís the down side of the night."
Palace striker Dougie Freedman has experienced Grayís heartache, when he was suspended for the 1997 play-off final.
He told the Guardian: "Heís disappointed but he is happy for the club to have got there. Itís a squad game and he feels very much part of it.
"I missed the final through suspension so I know how Julian feels. Weíre all with him. Heís let down nobody this season, heís been fantastic and I think heís been player of the season. He can stand up and be proud of himself.
"The never-say-die attitude at this club is unbelievable, we keep on going to the ninetieth minute.
"We were far the better team, but they scored two goals and we had to show character, belief, and fight to come through it."
Live Croydon Guardian text commentary
In Depth Palace in the Play-offs 2004