May 18 2004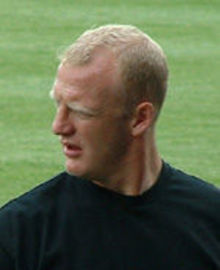 Iain Dowie said Palace's play-off semi-final win over Sunderland was the proudest moment of his brief managerial career.
The Eagles looked like they were crashing out of the play-offs as they trailed 2-0 to Sunderland and 4-3 on aggregate.
But substitute Darren Powell equalised for the Londoners in injury time to send the tie to extra-time and then penalties. Palace won 5-4 on spot-kicks to book a place in the play-off final.
"That is as proud as I have ever been as a manager," said Dowie. When I was at Oldham I was proud of the group of players there but I have to say tonight they have exceeded that.
"It was a bit of a travesty to go in 2-0 down at half-time but that is what happens in football if you do not take your chances. We had a chat at half-time and kept everything going.
"But no-one - I do not think even Sunderland boss Mick McCarthy - would have denied us a goal in the game.
"We deserved a goal in the game and that took us to extra-time. It is a fantastic achievement to come here and get a result."
"I don't think anyone could begrudge us after going down to 10 men and fighting back. The lads stuck in there and that speaks volumes for them. I thought we were comfortable during extra-time with 10 men.
"We were strong when the penalties started but when it goes to sudden death, you think, what is going on here?' Fortunately I have got no hair to worry about losing."