May 26 2004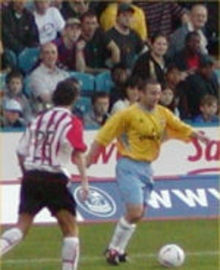 As Palace and West Ham prepare to do battle for football's most lucrative prize at the Millennium Stadium on Saturday, several old boys are preparing to break hearts at their former clubs, by Joseph O'Shea.
Promotion to the Premiership is worth an estimated £22million in television money alone, so the stakes could not be higher in the Division One play-off final.
As so often happens in football, this derby fixture between two of the divisionís most attractive footballing sides has thrown up a number of coincidences.
Managers Iain Dowie and Alan Pardew both played for the opposition, while Hayden Mullins and Michael Hughes are facing their former clubs.
Veteran striker Brian Deaneís last-gasp goal also booked Palaceís play-off place and he is likely to get a great reception from both sets of supporters should he come off the substitutesí bench.
But Dowie insists there will be no room for emotion in Cardiff. The 39-year-old played 84 games for West Ham in two spells, while 42-year-old Pardew made more than 140 appearances at Palace between 1987 and 1991.
Dowie said: "Alan is managing West Ham and he supports Palace and itís the opposite way round with me.
"As a player I had great times there and was very fortunate to play for the club I supported as a boy. I have got a lot of affection for West Ham and they are always the first result I look out for. But it wonít be a factor on Saturday."
Pardew, who became a cult hero by scoring an FA Cup semi-final winner over Liverpool in 1990, also retains feelings for Palace.
He said: "It's a club that's close to my heart. I hope West Ham fans take that in the right manner because I obviously had a great time there as a player and now I'm putting a plan together to knock them out.
"I've got some great friends at Palace, I saw them at Sunderland and I'm pleased they're in the final. But obviously it's West Ham that I'm about now."
Mullins made 256 appearances for Palace before joining the Hammers for £600,000 in October.
He said: "Saturday will definitely be an extra special game for me. I would feel a bit of sympathy for Palace if they lose, because the disappointment is huge, but we know what's at stake. We won't be taking them lightly."
Michael Hughes had three spells at Upton Park between 1994 and 1997, before joining Wimbledon in a £1.6million deal. But the 32-year-old has abandoned any feelings he might have held, as he prepares for his first showpiece final.
He said: "We could have been playing West Ham, Ipswich or Stoke, and it wouldn't have mattered to me. I'm not focused on them whatsoever, that's in the past. You've got to look forward and I'm just focused on us.
"It's not so much the prize of getting into the Premiership, that comes with it. We want to beat West Ham, more than any other team, I want to beat them.
"I don't care about anything else. We can go there and have the poorest game in the world, as long as we win it."
While Dowie has only been able to bring in Mikele Leigertwood from Wimbledon and goalkeeper Nico Vaesen on loan, Pardew has spent over £1 million on eight players. He rates Pardewís squad as the best in Division One, but believes his players will relish their underdog status.
He said: "I said before the play-offs that I felt West Ham should have gone up automatically with the squad they have.
"We cannot compete on a financial footing with them but in terms of heart and soul and determination we wonít be found wanting. Itís going to be a great occasion for my players to pit their wits against certainly the best squad in the division.
"We will be meticulously prepared against a much more expensive and glittering squad but itís 90 minutes, 11 against 11 and I am very confident the lads will give a performance which will do myself and the club very proud and if that gets us in the Premiership, marvellous."
By 5pm on Saturday, at least two of these old boys will have condemned their former club to another long season in Division One, but with the Premiership to look forward to, they are unlikely to shed any tears.
Live Croydon Guardian text commentary
In Depth Palace in the Play-offs 2004