May 26 2004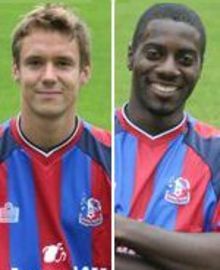 Climbing out of the bottom four into the play-off final is a phenomenal achievement by Iain Dowie's side, but for two largely unsung defenders, just getting on the coach will be a victory in itself, by Joseph O'Shea.
If circumstances had allowed, neither Danny Granville or Darren Powell would have been at Palace to help them reach Cardiff.
Before Dowie's arrival in December, Granville, 29, spent the season on the transfer list, having failed to impress since his £500,000 move from Man City, while Powell, 28, had been confined to the treatment room with a thigh injury since early October.
Palace chairman Simon Jordan accepted Reading's £250,000 offer for Powell in February and would certainly have done the same had anyone come in for Granville.
But since his arrival, Dowie has put his faith in both men, recalling Granville to the starting line up and insisting that Powell, who made 46 appearances in his first season, be given a chance to play under his innovative regime.
The rewards were there for all to see on Monday when Powell came off the bench to score the last-minute equaliser, while Granville is now playing the best football of his career.
Powell said: "Only a few months ago I was on my way to Reading but the gaffer has given me my chance, and I am just grateful that I have been able to get involved. Just to be in the squad (on Saturday) will be enough for me."
It was poetic justice that Powell should save Palace from elimination after a torturous six month injury ordeal, which included long early morning walks with his boss. His goal celebration said as much.
He said: "It was pure emotion really and I didn't know what to do, so I just jumped into the crowd. To score so late on in the game and to score an important goal like that, you just go wild."
The turnaround in Granville's form and fortunes has been just as dramatic, with his new found consistency even prompting a ground-breaking apology in Jordan's programme notes.
Granville said: "It has been well documented that the chairman apologised for putting me on the list and I respect him a lot for that. But it is water under the bridge and I am looking forward now."
A hernia operation cured a long standing undiagnosed problem, and Granville now feels he is in the best form of a career that has taken in Chelsea, Leeds and Man City.
Having been sent off twice last season, the left back has also put his disciplinary problems behind him.
He said: "It is something I have addressed personally, because it wasn't helping me or the team. As a defender I am proud that I have only been booked three times in 23 games. I have tried to take more responsibility at Palace. It is something I should have done sooner at other clubs."
Despite winning the European Cup Winners Cup as a youngster with Chelsea, Saturday's final will be a new high-point in his career.
He added: "It is probably the highlight, because what we have achieved, in the manner we have done it is unbelievable. To have got the return of 45 points over 22 games and now to reach the final is such a great achievement.
"Everyone's in it together and that's what makes it so special. We are all doing it for each other. I have never known team spirit like it."
Granville has stitches in a four inch cut on his shin sustained in the second leg, but insists he will be fit to play.
He said: "I'll be alright for the final, that isn't going to stop me."
Live Croydon Guardian text commentary
In Depth Palace in the Play-offs 2004