May 27 2004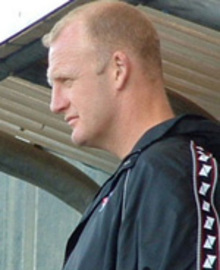 Palace boss Iain Dowie is determined to shield his players from the "circus" as they prepare for the play-off final and "go back to what got you there," by Joseph O'Shea.
From Tuesday, the media will not be allowed access to the Palace squad at the New Beckenham training ground, as he puts his players through the training regime and meticulous planning that gleaned 45 points from 22 games to clinch their play-off place.
Dowie said: "I want to get as much of the circus out the way and concentrate on football. We have done that well, quietly going about our business.
"We are accentuating what they have done all year. Go back to what got you there."
Promotion to the Premiership is worth £22million in television money alone, but Dowie is keeping his players minds off the prize.
He said: "It's a huge, huge game and in many cases as big as we have seen. West Ham and Crystal Palace, two very big clubs going head to head for what is the ultimate prize.
"But we have got to distract ourselves from the magnitude of the game. It's a game, we have tough opposition, let's look at them, concentrate on our strengths first, their strengths secondly and their weaknesses primarily and see how we go.
"There's belief in the camp and you won't see us predicting or anything like that. We are focusing on what we want to do and we will have a low key preparation."
With that in mind, Palace have not commissioned new suits for the players or a play-off final kit (they will wear the lucky Brazil away strip) .
Dowie added: "No one will distract me from the standard and if anyone falls below that they will be told. We are preparing for a game - the biggest game in a lot of these lads' careers."
Dowie's inspirational fitness coach John Harbin is helping prepare the players physically and psychologically for the task ahead. The Australian former rugby league coach has coached teams in 15 grand finals, winning 13 during his career at numerous levels.
He said: "Don't let the circus affect your performance. The important thing is to make sure the players are relaxed.
"People say you have to get the players up for it, but there's nobody on that field who's not going to be up for it in front of 70,000 people. They need to be calm and focused on the game.
"Already we are relaxed because we have exceeded expectations, we have got further than anyone expected, so let's go out and do it now.
"It is not like we have got to do it because if we don't our budget is going to be cut. For us there is no fear, we are underdogs."
The same cannot be said of West Ham who have spent heavily under Pardew on he likes Zamora, Harewood, Reo-Coker, McAnuff, Deane, Etherington and Mullins.
Live Croydon Guardian text commentary
In Depth Palace in the Play-offs 2004