May 27 2004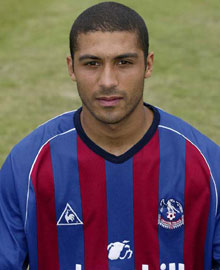 The Croydon Guardian's Joseph O'Shea picks out five key clashes in Cardiff.
Shipperley vs Dailly
The two captains go head-to-head in a rugged aerial duel. Dailly will have to stop Shipperley winning flick-ons, a key supply route for Johnson, and beat him to crosses from left and right. Shipps will also have to stop Dailly posing a goal threat at set pieces.
Routledge vs Repka
If, as expected, Routledge switches to Julian Gray's left wing slot, he will have the chance to run at veteran defender Repka. Normally a centre back, the Czech hatchetman will have his hands full with the 19-year-old wing wizard and an early booking could spell trouble for him and his side.
Hughes vs Lomas
The battle between Northern Ireland's midfield anchormen should decide which dominates possession in Cardiff. Hughes, 32, has been outstanding this season, while Lomas has been missing with an ankle injury. The help of midfield partners Riihilahti and Carrick could prove decisive.
Black vs Mullins
Palace old boy Mullins will know all about Black after three years together in SE25. Mullins has been in outstanding form for Alan Pardew, despite playing out of position at left back. Black has hardly figured for the first team under Dowie, but in Gray's absence, will relish his chance on the big stage.
Johnson vs Harewood
Palace's 32-goal marksman is two ahead of Harewood in the race to finish Division One top scorer with 28 league goals. Harewood's goal threat is reduced on the right wing, but his pace and power will trouble left back Granville. Johnson is a constant threat on the break and will enjoy the space in the Millenium Stadium.
Joe O'Shea and Neil McSteen will be in Cardiff to bring you all the latest action as it happens from 2.45pm.
Live Croydon Guardian text commentary
In Depth Palace in the Play-offs 2004