May 31 2004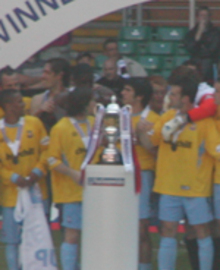 What a day! Re-live all the action and atmosphere from Cardiff on a memorable day for the Eagles.
Neil Shipperley sent the Palace fans home happy with a simple tap in, which has put Palace into the Premiership.
Loads of you have sent in your photos from Saturday already, and you can see them in our From The Terrace gallery.
From The Terrace Playoff Final Gallery.
There are several videos to download and watch, which have captured the great atmosphere before the game. They are available at the bottom of the gallery above.
If you have taken some photos and would like them to be included on our gallery, send them to webmaster@holmesdale.net and we'll upload them for all to see.
In Depth Palace in the Play-offs 2004