May 31 2004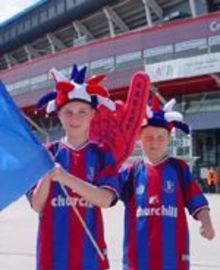 Holmesdale Online members share their memories of the famous day when Palace returned to the Premiership.
Amy the eagle
All, I have to say how happy I am!! I didn't think we could do it but we have! The atmosphere was electric and the players were great! When the final whistle went I was the happiest girl in the world! I'm sure most of you felt the same??!!
The drive home was even better!! Eeeeeagles all the way to Bracknell!! See you all in the Premiership!!!
rach_d_cpfc
Not ashamed to say I had a tear at the end. Awesome performance from the boys. Awesome atmosphere from us lot. Awesome turn around from THE MAN - Iain Dowie's Red and Blue Army!!!
Gotta say though, was anyone else slighty in a state of shocked disbelief at the same time as ecstatic happiness???
olly123
What a great day. The atmosphere outside the City Arms from 12.30pm onwards was unbelievable. Real carnival time. The stadium was even better. England have to go and play Wales there for World Cup 2006. With that type of atmosphere it'll ge a tough game for England.Queuing for the train back was the only crap aprt of the day but i was so excited i didn't care. Can't stop smiling. Yippee.
Moose
The feeling as that final whistle went was unbelievable ... hugging the people next to me ... seeing a certain HOL father and son combination hugging each other in tears ... standing on my seat shouting and applauding ... feeling a bit numb from disbelief that a team that had been SO bad six months ago were going to the Premiership ... watching a wall of Palace fans behind the goal and stretching round the stadium, all stood up, flags waving ... and, yes, shedding a tear when Shipps lifted the cup up. Magical, unforgettable moments, I'll always treasure them.
NEILLO
When the final whistle blew the Hurley family had a group hug - while jumping up and down at the same time - bit risky in the upper tier! Very emotional, I really wanted Palace to win more for my kids than anything else as they were too young to remember our last season in the Prem clearly.
We also followed the players' example and had a family huddle before the game - so I guess we're going to have to do that every time from now on !
cranes park eagle
Pure disbelief and an awareness of the passage of time. 1997 still seems like yesterday but It occured to me that the kids in the seats in front of me would have been seeing this for the first time. Strangely it felt like this was how it would be all day and for the last few weeks. Rarely has such self delusion proved correct!
I think it may only sink in at the start of next season. Going from where we were at Christmas to the Premiership I can only imagine that passengers on Concorde wondered how they crossed the Atlantic so quickly. A great day.
Clarky
Where do I start? First of all I swear the clock was in slow motion from about 87 minutes onwards, those last four killed me though, but what a rush when the ref blew up for full time, much hugs were to be had with strangers and a few tears were spilt! The sea of red and blue was amazing!
Its got to be one of the most impressive success stories of recent times, from relegation to promotion in six months? Cant wait for next season, bring on United, Chelsea and Arsenal! And also one of the most satisfying moment was seeing Hayden Mullins crumple on the floor when he realised he'd have another season of First Division footie! Correct me if im wrong but he left Palace to get in to the Prem didn't he? Irony is great!
mezzer
I was there with my three kids, girls aged 16 and 13 and a lad of 11. It is something that none of us will ever forget... a truly once-in-a-lifetime feeling. My boy had tears in his eyes when Shipps scored and the girls were just bouncing up and down screaming. After the game it was great hearing youngsters belting out Glad All Over (proves their dad knows what he's talking about when he says 60's music is better than today's !!).
The hugs and kisses, joy and laughter, singing and screaming are something that my kids will remember long after I'm not here any more. Anyone out there who doesn't have kids yet or have kids that are too young...make sure you put it down as one of those things you do with them before you die. Truly special day.
peterg
I was there with one wife, two sons, two grandsons (ages 11 and 9) and one grand-daughter (aged 10). Last match my wife saw was Burnley playoff in 1979. She hadn't been since then, as she said she couldn't bear to see Palace lose. So by coming this time she had as much at stake as the rest of us!
For one grandson, he had seen Palace play six times before and never seen them lose, so he was obviously our lucky mascot.
It was fantastic sharing a day like that with them, especially when you look back on all the times, good and bad, we have shared before. Worst was driving down from a holiday in the Scottish highlands with my two sons for the Leicester play-off - left at 4 am, got home again at 2am (We would like to claim this as a record for the longest round-trip by road on the British mainland to see Palace play).
I hardly dared hope we would hang on to the lead with 28 minutes to go, but when the two Spammers goals were disallowed for offisde, my older son said the force was with us and this was our day.
I still hardly dared watch the clock, but counted down the seconds when the four minutes were called for added time. It was brilliant when Etherington did his stamping act, as the skirmishing and the free-kick used up nearly all the remaining time.
When the final whistle went we danced and hugged everyone, including the complete strangers next to us and in the row behind.
We were in the front row so got to touch the cup when Darren Powell carried it past us. We were filmed by Sky doing this, as we saw when we got home to watch our recording. You can see the joy on our faces.
We spent Sunday in Somerset and we were all talking about what an amazing day it had been. I am sure the grand-children will remember it for the rest of their lives.
In Depth Palace in the Play-offs 2004