August 6 2004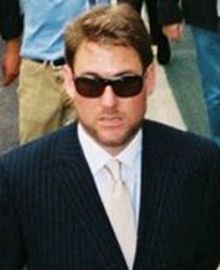 The lack of transfer activity is upsetting for boss Iain Dowie as much as it is for us as fans - and it could lead to him leaving next summer.
Dowie still hasn't signed his new four-year contract, which he was poised to pen in June. Dowie is very frustrated with the lack of signings made so far, just like the rest of us.
He was fuming Simon Jordan said on the official website that Palace had bid for Michael Carrick and Marlon Harewood because he likes to do deals in private and only announce them when they are "over the line."
It seems that Jordan has yet again jumped the gun and ordered the Aloui Cisse story, with the comment about his commitment to new signings, to be publicised in a desperate attempt to show he's backing the club.
The bits at the end of the announcements on the official site are cringe-worthy when you consider that they invariably amount to nothing.
If they put one up that says Palace have not signed Cisse, then the final paragraph should read:
"This clearly shows that the chairman continues to be full of hot air when it comes to transfer dealings. Despite the rumours Mr Jordan was looking to sell his stake in the club."
His one-man stand against agents, although admirable, has cost us a decent player in Tim Cahill from Millwall. We've been out-bid by Pompey for West Ham's Carrick - not helped when Jordan made news of our interest in him public.
We can't even match a paltry £300,000 bid by Portsmouth for Cisse. They are hardly a bigger outfit than us? Why was it announced by the club before he had totally signed a season-long loan. Another desperate, and premature attempt by Jordan to show Palace mean business?
Highly-rated Hungarian keeper Gabor Kiraly was poised to sign until Palace offered him "youth player" wages after verbally agreeing more sensible terms. Palace now have no decent second-choice goalie for the Premiership season.
It's a complete joke and with just a week before the start of the new campiagn, Palace are only heading one way and that's straight back down with the squad we have. It's simply not good enough and defeats to Ipswich and QPR in pre-season has proved this.
Dowie said on July 20: "In my mindset I am looking to get four or five more bodies over the line before the start of the season. We have still got just under a month to go and we need to get some more in."
Only striker Sandor Torghell has signed since. So where are the other players? And more importantly, WHY haven't they signed for Palace?
We trust Dowie 100 per cent, but when he seems to have no support from his "ambitious" chairman, then what hope do we have of avoiding the drop? Superior fitness will only get us so far but we need players and time is running out.
Why should Dowie commit his future to Palace when he's not getting the support he'd like from above. There's a massive queue of clubs desperate for his services at the moment. And I can see him seeing out his current deal to move onto a club that backs him.
Unless changes are made, this time next year Palace will end up facing a season in the Championship, without the hottest young manager in the game (who is likely to take players with him) and we'll be back to square one again.
Sort it out Jordan!