August 18 2004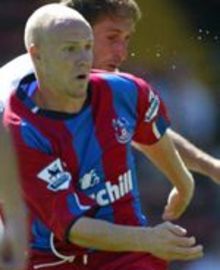 Striker Andy Johnson has agreed a new five-year contract which will tie him to Crystal Palace until 2009, exclusive by Joseph O'Shea.
The 23-year-old hotshot who scored 32 goals last season to fire Palace to promotion and got off the mark on Saturday with a superb finish, reached agreement with Iain Dowie and chairman Simon Jordan on Monday.
He told the Guardian: "It's all agreed in principle, itís now just a matter of it being drawn up and putting pen to paper.
"I sat down yesterday with the gaffer and the chairman who has been very fair. He has rewarded me for what I did last year and I am going to sign a five year contract and commit myself to Palace. I am settled here and itís the place I want to be, Iím very happy.
"It brings security for me and my family, and I am very pleased with it. The chairman has been brilliant, and the gaffer has been top class and has backed me all the way since he came to the club. I want to play for him."
Dowie is naturally delighted that the future of his most prolific player has been secured.
He said: "We are just about there with Andrew. I want him here and Andrew very much intimated that he wanted to play for me. Whatever happens this or next year he would like to be a part of Crystal Palace's future. With the length of the contract you can understand his commitment to the club."
The deal will bury any lingering speculation about a move elsewhere, just as Johnson gets used to the increased media attention Premiership football brings. On Saturday night he broke his long running superstition about not doing post-match interviews to talk to Match Of The Day.
He said: "Match of the Day wanted to speak to me, so I had to speak to them. I was very excited.
"Itís strange to get his attention but itís a good feeling. Itís an honour to be playing in the best league in the world.
"Iím pleased to get off the mark but the main thing is we are off the mark as a team. It was a great point, much better for us than for them, but the general feeling here is that we could have won the game."
Right back Danny Butterfield and midfielder Ben Watson have both agreed new four year contracts, while 19-year-old Wayne Routledge is in talks with the club to extend his deal which has one year to run.
Dowie was surprised that Routledge was not included in Peter Taylor England Under 21 squad this week.
He said: "Wayne deserves to be in the Under 21 squad and I will be having a word with Peter (Taylor)."