August 23 2004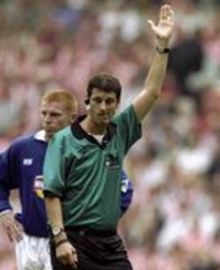 The new Premiership season is barely two weeks old, but already records have been broken, referees have hit the headlines and there have been more transfers than you can shake an overpaid agent at… writes Matt Amer.
After one hell of a long wait – a couple of summer months is a long time for a football fan – the Premiership has started in earnest and, as should be expected from the greatest footballing show on earth, it has started with a bang.
After only two weeks Arsenal are already sitting top of the pile and have equalled the 42 games unbeaten record set by Brian Clough's Nottingham Forest. With 36 more games to go, it is hard to see Thierry Henry and co not va-va-vooming to 78 unbeaten by the end of the season.
Watching Jose Mourinho's new look title-chasing Chelsea though, is duller than a Saturday afternoon double bill of paint drying and grass growing.
Although it is hard to mock a man who has a one hundred percent record in the Premiership, and the most strictly regimented beauty regime in professional football, the revolution has not materialised in West London and Chelsea's flair has stayed, like my Dad's, in the closet.
Man Utd mastermind and Scotland's answer to Ebeneezer Scrooge, Sir Alex Ferguson has made the unexplainable decision to play one of his best central defenders in midfield.
What..? Oh! John O'Shea aside, ex-Leeds hardman-with-highlights Alan Smith opened his account last weekend with a turning, swerving, dipping volley, which must have please the wily Scot, but with Djemba-Djemba, Fortune and Bellion also set to become first team regulars, warnings of flying boots have been issued at Old Trafford.
The transfer rollercoaster is still in full swing with Palace 'favourite' Michael Carrick possibly looping the loop over to Tottenham. West Ham's most over-rated mullet-adorned attitude on legs looks to be making the move to the Premiership's perennial underachievers, joining the likes of Jermaine Defoe and Freddie Kanoute in the process. Rumours that Thomas Repka is next on Spurs shopping list have yet to be confirmed.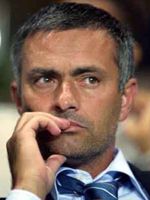 Jonathan Woodgate, the only England player to make Darren Anderton look a picture of health, has jumped the sinking Newcastle ship before Kieron Dyer's ego could weigh Captain Bobby's side down any more.
A £13.4 million move to Real Madrid has left Cap'n Bob with a large hole to fill at the back. Apparently he was going to ask Dyer to fill in, but was afraid of being hit by the toys being thrown out of the pram.
In other big money transfer news, star signings and saviours of their respective clubs' fortunes, Diego Forlan and El Hadji Diouf have both finally been ditched by the Premiership's big boys.
Blonde bombshell Forlan, who sported a rather fetching braided look in pre-season before returning to his famous matted mane for the season proper, has disappeared from our fair shores (sniffle) to play for Villareal. Luckily for defences around the country – Woodgate must be kicking himself – Diouf has stayed and is gracing Sam Allardyce's Jay-Jay Okocha Utd with his presence.
The real news at the start of this season though, apart from Norwich keeper Rob Green now having to use pipe cleaners and sellotape to keep his head on after Torghelle's torpedo opened his head like a pedal bin (maybe), is that Premiership refereeing hasn't got any better since Lombardo and co were playing here all those years ago.
This weekend saw Andy D'Urso miss about 39 penalties – reminiscent of England's records in major championships - in the match between Blackburn and Southampton, before showing Barry Ferguson two yellow cards but not sending him off.
It's reassuring to know that although the gulf in class between the teams at the top of the Premiership and those at the bottom might have expanded faster than Rick Waller's waistline at an all you can eat buffet, the refereeing is still as bad as ever.