August 27 2004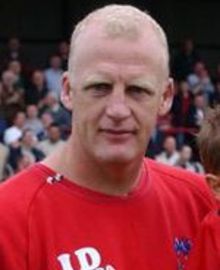 So, two home games and two home defeats, but there has been plenty on offer at Selhurst Park in the past few days to suggest that this Palace side might have enough to confound the critics and stay up, writes Ed Aarons.
Despite the predictable mumblings on the train home that we will be lucky to get 15 points all season, it was never going to be easy facing Chelsea's legions of multi-million pound talent and Ian Dowie's side showed that the one thing that they will not be lacking as the League progresses is desire.
From the start, the gulf in class between the two sides on display was in evidence but where Aki had allowed his Scandinavian compatriot Gravesen from Everton to run the show on Saturday, the passionate Finn gave world-class midfielders Makelele, Lampard and Cole an uncomfortable ride for the first hour of the game.
Fair enough, in the end Chelsea were able to stroll to victory but you have to remember that, as Ian Dowie said after the game, Palace's opposition were not a real indication of what is to come this season.
"Chelsea's side are in the top ten in the world and we were always going to be up against it," he admitted.
"There are always key moments in any game and if Danny Granville's header had gone in, it could have been a different story. Saying that, I couldn't fault the effort of the lads - Aki epitomized that with his colossal energy levels."
Champion's League semi-finalists last year, the pace and assuredness of Gallas and Terry must be among the best defensive partnerships in the world and, try as he might, AJ simply could not break them down.
No, the real test for Dowie's young team will come in the next two months as they face tricky away ties against Middlesborough and Portsmouth before three home games that could be the real turning point of the season against relegation candidates Man City, Fulham and West Brom.
And if he plays like he has started this season, don't be surprised if AJ inspires Palace to make the rest of the league sit up and take notice.
Already, the usually quick to criticise national press have singled him and Wayne Routledge out as the two most influential Palace players and Dowie will be pleased that both recently signed new contracts.
But while Chelsea might have the rich Russian benefactor, the suave, dark-suited continental manager and a £24 million donkey, there is definitely one thing that Palace have over them - the fans.
Anyone who was in the stadium for Tuesday's game would testify as much - even when the result was clearly going against us, we put the hordes of Blues' fans to shame with some impassioned singing and clever responses to their inane songs.
My particular favourite this week had to be "You only live round the corner", although "Chelsea-Rah,Rah, Rah" and the shouts of "Heskey, Heskey" everytime Drogba touched the ball also entertained.
As for our own songs, the Saturday's first rendition of the ditty commemorating new keeper Julian Speroni's poor choice of haircut was ill-timed to say the least, coming as it did before his amazingly bad howler and I doubt whether he is "gonna keep us up" with too many mistakes like that one.
However, the new man in between the sticks has made some quality saves and is beginning to grow in confidence, meaning Dowie should allow him time to develop a partnership with his defenders.
All in all, it's been an emotional start to the season as the Palace rollercoaster begins to pick up speed once again after a long summer of anticipation following May's magical play-off victory.
Those heady days already seem like a long time ago now the realities of life in the Premiership are beginning to hit home but the time has come to forget what has past and concentrate on survival.
Let's hope that as the team heads into the serious business that September will undoubtedly bring, we are ready to show this league that we do belong here, whether the likes of Chelsea like it or not!
---
Feel like writing about a current Crystal Palace issue? Email it to us and we'll publish your words for Eagles around the world to read.