September 13 2004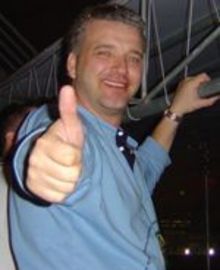 Paul Stewart, Alex Dyer, John Sewell, Dean Austin and Jerry Murphy - where are they now?
Paul Stewart (1994)
Alan Smith pulled off a master-stroke by signing Stewart on loan from Liverpool for the final part of the Eagles' Division One championship-winning season of 1993-4. He scored three goals in 18 matches but his contribution to the team was massive, such was his experience and quality.
Stewart started his career with Blackpool and moved onto Man City, Spurs and Liverpool for £2.3m. It didn't quite work out for him at Anfield and he had further loan spells at Wolves, Burnley and Sunderland before joining the Wearsiders and later Stoke.
Andrew Kemp said: "I met up with Paul Stewart in the same hospitality tent in March 2004 at the Hong Kong Rugby 7's. He was delighted to be remembered as a Palace hero. Whilst he knew how much he did for Palace during his loan spell, not too many others remember him for it!
"Now selling advertising space at football and I guess rugby grounds around the world. He has put on a fair bit of weight, and now resembles David Price during his season at Palace."
Alex Dyer (1988-90)
Dyer was brought to Palace by Steve Coppell for £250,000 after playing particularly well for Hull City against the South Londoners. Signed to play on the left wing, he switched to the right before Eddie McGoldrick's arrival.
He netted five goals in as many games, including a goal direct from a corner in a win over Birmingham. But injury ruled him out for much of his Palace career and he failed to re-capture his early form when he returned to the side.
Dyer played 27 times and was sold to Charlton for £100,000 in 1990. He then had spells at Oxford, Lincoln, Barnet, Huddersfield, Notts County, Kingstonian and Hayes.
The 38-year-old had been working as a private fitness trainer since retiring from the game in 2001. He recently re-joined former Palace team-mate and West Ham boss Alan Pardew at Upton Park, where he has become assistant to the club's sports scientist.
John Sewell (1963-71)
Club skipper Sewell was a rock in the Palace defence during his eight years at the club and made 258 appearances, netting nine goals, mainly from the penalty spot.
He was a great leader on the pitch, a solid, yet unspectacular full-back, who took Palace to the First Division for the first time in 1969. Sewell never argued with the referee, was never booked and looked like a city gent.
He scored one of Selhurst Park's most memorable goals against Leeds in his last season with Palace. The defender hoofed a clearance upfield from his own half which went through Leeds keeper Gary Sprake's hands to earn Palace a last-minute equaliser. Coming to the end of his career, boss Bert Head sold him to Leyton Orient in the summer of 1971.
Sewell, now aged 66, lives in America and works as an antiques dealer.
Dean Austin (1998-02)
Austin moved south of the Thames to join Palace on a free from Spurs and hook up with his old manager Terry Venables in the summer of 1998. He struggled at right back and was targeted by the boo boys as he flittered in and out of the side.
But his crucial-winning goal away to Norwich in April 1999, transformed him into a cult hero overnight in Palace's tough season in adminstration, where they avoided relegation. The crowd began to warm to his committed performances, his respect for the supporters and he became club captain.
The former St Albans and Southend defender played 167 times for Palace but was released in 2002 and joined Conference outfit Woking. After just a season at Kingfield, he moved to Conference rivals Farnborough Town, where the 34-year-old became director of football. After manager Vic Searle resigned in June, Austin took over as manager.
Jerry Murphy (1976-85)
Murphy was a product of Palace's successful youth team of the 70s and made his first-team debut as a teenager, going onto play for the "Team of the Eighties". He was a stylish midfielder with great passing attributes, making him a regular in the side from 1978.
Murphy was born in East London but his father was Irish and he won three international caps for Ireland. He scored 25 goals in 269 appearances and Palace fans were disappointed when he left for Chelsea as a free agent in 1985.
His career at Stamford Bridge was blighted with injuries and nowhere near as good as it was at Palace and the Blues cancelled his registration in 1988. He migrated to Australia and is now aged 44. Though he is believed to be back in his native East End, coaching youngsters football.
---
If you know the whereabouts of any former players, or can provide us with updated information, then let us know by emailing editor@holmesdale.net