September 14 2004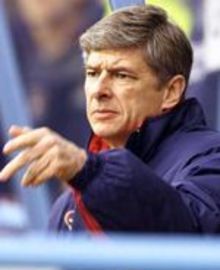 Five games into the new Premiership season and, apart from Arsenal looking slicker than an oil spill in a designer suit, Chelsea doing nothing more exciting than giving Joe Cole a starting place and Newcastle forcing retirement on football's greatest granddad, it is the referees that are making all the headlines… by Matt Amer.
It was another great weekend for incompetency and ridiculous mistakes in the greatest league in the world, with the leaders in the field being the men in black.
Unfortunately for Mark Halsey, there were no comedy aliens or smart dance routines to draw attention away from the penalty he gave, before changing his mind about the spot kick following the Arsenal players calmly pointing out that the very tip of Ashley Cole's specially grown big toe nail might have grazed the ball.
It is not the first time that referees have been mobbed after making an important decision. A Premier League game just wouldn't be the same without the ref being surrounded like David Hasselhoff at a German Women's Institute meeting. It is, though, the first time that a ref has changed his mind after having a discussion with the team that he gave the decision against.
Halsey claimed that he could tell from the reaction of the players that his decision might not be right. What exactly was he expecting? Ashley Cole to stand up and applaud him for giving a penalty? Patrick Vieira to shake his hand and congratulate him on his astute judgement? Of course they're going to appeal and look aggrieved; that's what players do!
Events then took an even more sinister turn when Halsey disallowed Collins John's goal for Fulham seemingly because the forward took the rash decision to get sandwiched between two Arsenal defenders.
Scouring the rule book for exact definitions on what can and can't be done in the penalty area doesn't throw any light on this subject, which might indicate, to the cynics among us, that something untoward happened to Halsey to affect his decision-making ability.
I'm not suggesting that a large brown paper envelope bulging seductively was passed in Halsey's direction. No-one would dare suggest that today's refs are corruptible in any way. Instead there is another line of thought which may also explain Arsenal's unbeaten run.
There is, if you examine him closely, an almost disturbing resemblance between Arsene Wenger and Star Wars legend Obi-Wan Kenobe; the slightly drawn face, the almost supernatural air of calm, his long-term battle with 'the dark side' – or Man Utd as they're also known. Yes, Arsene may well be a Jedi Knight (Obi-Wenger Kenobi, maybe).
If that is the case, his pre-match chats with officials aren't kind-hearted pleasantries, but the wily old magician using a Jedi mind trick on the weak-minded fools. There can be no more plausible reason for Halsey's inexplicable decisions.
Unfortunately, Arsene may have caused a severe disturbance in the force, as elsewhere around the country, more ridiculous decisions were being made.
At Villa Park, Rob Styles decided, from his cunning vantage point near the halfway line, that one-man-goal-machine-in-waiting Didier Drogba had taken a dive in the Villa penalty area, rather than noticing the shoeing he took before becoming more closely acquainted with the turf. Another woeful refereeing decision, but you have to feel sorry for Styles; he probably wasn't expecting anything that interesting from a Chelsea attack.
At St James' Park, Lombardo-alike Dermot Gallagher seemingly failed to notice, on two separate occasions, that Lee Bowyer had been felled lumberjack-style in the Blackburn penalty box. The decisions seemed odd at the time, but apparently Gallagher was laughing too much, at Bowyer being on the receiving end for once, to give a decision.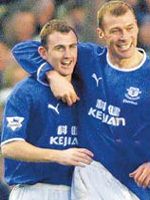 Most ridiculous call of the day, though, went to Steve Bennett, who chose to send Tim Cahill off directly after he scored for Everton. It was not sealing a win for the Merseysiders that was the problem – although FIFA are looking into making that a bookable offence – but his goal celebrations, which involved pulling his shirt over his face.
As much as Cahill is loved around Selhurst Park, I don't think any of us can blame him for his reaction; if you saw Duncan Ferguson charging towards you offering a congratulatory kiss, you'd damn well hide too.
With all that farcical refereeing going on, it was relieving to see a couple of moments of silly football at the Reebok Stadium. Not only were spectators treated to 17 stepovers before Ronaldo curled a beauty onto the crossbar – nice flair, but it's not a looping backheel, is it?
But Sir Lesley of Ferdinand, at 76 the oldest player in the Premiership, bundled in a glorious effort after Tim Howard forgot how to catch and Mikael Silvestre decided to kick his own goalkeeper rather than the ball. Rumour has it the Gallic baldy put the boot in as Howard has been shouting at him all season. Apparently no-one knew the French translation for Tourettes.
---
Email Matt with any of your comments to matthewamer@yahoo.co.uk