September 28 2004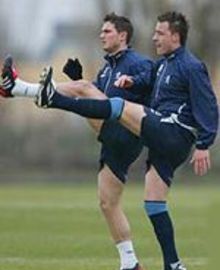 Residents of Fulham have been setting the trends for the rest of us to follow since Shakespeare first stepped out in a denim ruff... writes Matt Amer.
Movers and shakers from so many areas of life head to West London to hang with the beautiful people. But now Premiership footballers are starting to follow the Cottagers trends as well. That can't be right…
Just last week Chris Coleman's Lets Thump The Bugger Rovers were hitting the headlines after Andy Cole made suggestive remarks about Neil Clement's mum (possibly) and Clement pointed out that at least she could score in a brothel.
Since then the Premiership has gone violence crazy with more agro and injury than an ill-advised war launched into without any real thought or reason.
It has now gone so far that Roy Keane, usually such a paragon of virtue and level headedness, is even being linked to the assault of a youngster at the Hale Golf Course. Well, the 8th tee really wasn't the place for Ronaldo to practice his stepovers.
At Chelsea, where people were starting to get annoyed that their cottage-dwelling neighbours were in the news more than them, certain members of the team decided that they would no longer be derided as the most boring multi-million pound group of under-performing stars since Take That, and do something interesting.
Being the lateral thinkers they are, and wanting to break new ground in the art of entertaining football, they chose not to employ attacking tactics to produce more goals than the National goal factory of Angola; this entertainment – they thought stroking pencil-thin moustaches and grinning maniacally - would come in the form of blood, and lots of it.
England's fourth choice centre-back John Terry set the claret-fest in motion, giving ex-Chelsea goalscorer Jimmy Floyd Hasselbaink a closer look at his specially-made spike-tipped studs, which resulted in Jimmy becoming a human fountain and proving, to the Middlesbrough faithful's delight, that his blood really does run red.
Not to be outdone, William Gallas, who had obviously forgotten to put his contacts in before the match, was confused that Charlie Dimmock was working on the Riverside pitch during a match.
On nipping over to investigate and finding it was actually Ray Parlour and not the bra-less gardening wonder, he gashed the Cornflake boy's leg open to teach him not to impersonate TV turfers during football matches.
Before the entire pitch turned a soggy scarlet, Chelsea did manage a 1-0 win courtesy of a goal from Didier Drogbar/post/wide/saved/anywhere but the back of the net. The use of more blood than could be drunk by a very thirsty vampire did make the match more exciting.
Elsewhere comedy violence stormed the Premiership.
Darren Purse, now of West Brom, showed what a problem colour-blindness can be for a Premiership defender when he elbowed team-mate Ricardo Scimeca instead of any number of Newcastle players that were swarming around him like bees around some particularly thick honey.
Freddie Ljungberg showed that he still hasn't learned what the white lines around the edge of the pitch mean when he inflicted a sliding tackle on one of the Man City coaching staff, who hadn't noticed the Swede as he was busy mopping Kevin 'I love this club' Keegan's tearful eyes.
At Anfield, Dietmar Hamann inflicted what could have been a career ending tackle on Damien Francis. Nothing remotely funny about that. What is ridiculous about Hamann's ball-missing, knee-crunching lunge is the yellow card he received as punishment; the same punishment that Hendrie and Kluivert received for inappropriate goal celebrations.
I'm not saying that overzealously celebrating putting your club in the position to win a match in front of thousands of devoted fans shouldn't be penalised – we wouldn't want football to be fun now, would we – but there just doesn't seem to be a comparison between the two misdemeanours. What do I know though; I'm just a fan who can't even spell beaurocracyx.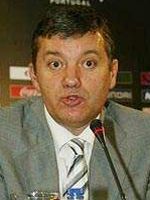 Aside from the violence, Jacques Santini has learned from Alex Ferguson's shining example very quickly since coming to the Premiership. After Spurs lost to United, restoring everyone's faith in the fact that the North Londoners will never quite get it right, he explained the result away by suggesting he had seen suspicious referee Peter Walton smiling as he entered the United dressing room.
There was never mention of a brown paper envelope, so to suggest that Monsieur Santini was accusing the card-waver of being bribed would be frivolous.
Instead, he could mean that Walton was there to see Rio about some 'antibiotics', to discuss the relative merits of playing a central defender and a knackered old war horse as a central midfield partnership or to tell Argentinean left-back Heinze that in the second half he'd have no more of his sauce.
Quiet how this would sway a match, I don't know, but my mole inside Old Trafford confirmed Walton's true mission. He actually popped in to ask Tim Howard to pose with him for a picture and to sign his daughter's copy of Shrek.
---
Email Matt with any of your comments to matthewamer@yahoo.co.uk