October 4 2004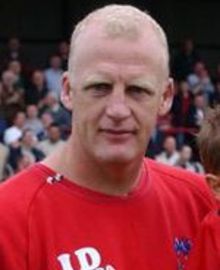 Iain Dowie was pleased to get Palace's first Premiership win of the season against Fulham, although he was a bit concerned it was still 0-0 at the break.
Fulham went down to 10 men in the opening stages and the Eagles took full advantage to record a comfortable 2-0 victory thanks to goals from Andy Johnson and Aki Riihilahti.
"You never know when you're playing ten men, we should have been two up at half-time so I was a bit concerned," said Dowie.
"But when we got the second goal we were very happy - I thought we deserved that.
"The first win is the most important one, we have got a long, long way to go but it is good to get off the mark.
"I rate Andy Johnson as good as any striker in The Premiership outside of the top three or four and everyone knows who they are."
Johnson added: "It's a great result, it's pleasing to get three points and to get off the mark and get off the bottom," said Johnson.
"The boys are buzzing, we played well at Villa and we have just built on that today.
"Of course I like to prove people wrong who said I couldn't score in The Premiership so I'll just keep playing my game and hopefully the goals will come."