October 5 2004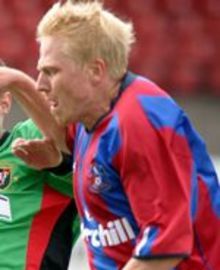 Crystal Palace won their first match of the season with a 2-0 victory at home to Fulham, writes Simon Pophale.
The result that we all hoped for and believed that would happen since the draw at Villa Park. From even that final whistle at Villa Park, it was looking rosy.
First Pape Bouba Diop and Andy Cole would not be playing, due a suspension incurred at West Brom, then we get Lakis (a deal which came out of nowhere really), an international midfielder, providing some competition for Wayne Routledge at last.
To top it all off, Claus Jensen is also out due to an injury. It could not have gotten any better for us.
It seemed ages since the Manchester City game as well, so it was great to be back watching a home game. The first half can really be summised in 2 parts. Fulhams' contribution to the game and then the rest :
6th Minute - Ian Pearce hauls down AJ, who was bearing down on goal at the time. Being the last man, Mike Riley send him off. Chris Coleman subsTomas Radzinski one minute later for Alain Goma.
17th Minute - Luis Boa Morte goes down in the box under a challenge from Danny Granville. Granville hardly touched him and the ref clearly saw that the Portugeezer was trying it on. No cards, no penalty either. Just a goal kick.
37th Minute - Steed Malbranque sends a shot from 20 yards which Kiraly safely pushes away to safety.
That's it. The half was well and truly ours. From the first minute when AJ tested Van Der Sar, to the 2nd minute when Kolkka sent Routledge in who shot wide, we were in the ascendancy. We were making the extra man count as well, Hall and Watson sending numerous passes to Kollka and Routledge who whipped in cross after cross, but each time the Fulham back line or keeper was resolute.
Indeed AJ was having one of those games where the ball was going everywhere except between the sticks. It was a frustrating half which seemed to be summed up perfectly when Johnson brought down Brian McBride and earnt a yellow card.
We were passing the ball around with much assurance but with no end product, Johnson being well marshalled by Goma, Knight and Volz, we failed to make any breakthrough, despite giving Van Der Sar plenty to deal with.
Including midway through the first half a bloody nose, after Riihilati sent over a speculative effort which AJ nearly got on the end of, his boot made contact with Van Der Sars' mush and certainly made the Dutchman realise that he was going to be in a real battle. We were no soft touch.
Thankfully the second half brought the respite that we all needed. Dowie had made a change also, Hall going off injured and Sarondo taking his place in the back line. Once again, it was all Palace again as Ben Watson sent a shot wide on 47 minutes, after good work from Emmerson Boyce and Joonas Kolkka.
Two minutes later, Routledge sent over another cross which came to nothing but it was only a few more minutes before the collective sigh of relief could be breathed.
The match was fast becoming the Aki show, and it was from his pass that the opening goal came. His ball to AJ, just like at Villa but over a shorter distance this time, eluded the Fulham defence and AJ slipped the ball passed Van Der Sar into the corner and the whole ground erupted. 1-0 and surely more to come.
In typical Palace fashion, we then began to make a pigs ear of things. The possession football in the first half seemed to have been forgotten and the players were certainly getting nervous, misplaced passes and possession was conceded on many occiasions but Fulham, short of manpower up front, could make nothing of the openings that were being offered to them.
Coleman clearly saw that we were struggling even with the lead, so changed McBride, who had been ineffectual to that point, with Collins John, a livewire striker bought from FC Twente, (my club in Holland) in order to give our defence problems. Before he could do anything though, it was 2-0 and the match was almost over as a contest.
With AJ and Routledge causing more havoc down the Fulham right, Wayne wins a corner and sends over a perfect cross for that man Aki to make it 2-0. A bullet header and no one has epitomised our season as much as Aki. He was found wanting early doors this season, but he is a worker and is now beginning to dominate games.
Dowie decided then to pep things up in midfield with Aki leaving the pitch to a standing ovation, to be replaced by Kaviedes and Routledge too getting a rest after tirelessy working for 75 minutes, being replaced by Vassilios Lakis. Kaviedes made an immediate impression as his first run saw him jink past 3 Fulham players before seeing Van Der Sar make a comfortable save.
Now having to attack, Fulham piled on the pressure with Malbranque and John giving Poppa and Sarondo something to think about. First Pembridge shot wide and then a John snapshot squirmed out of Kiralys' gloves, only to see Granville hoof it to safety. He had another excellent game, making few errors and generally being tidy.
However despite these few moments of pressure, we should have scored more goals and we see many better chances than the one that AJ had with 5 minutes to go. Fulham had been pushing up and from a perfect through pass, found himself with just Van Der Sar to beat, but shot wide of the post.
One minute later, Kaviedes was at it again, running the Fulham defence ragged and was denied a goal by the width of the post as he cleverly disguised his shot. Van Der Sar was rooted to the spot, but the post saved his blushes.
Time was ticking down now and it was clear from the Fulham players, that they saw the match as lost. A matter which was confirmed with Mike Riley sending 20,000 of us into extasy as we moved off the bottom of the table for the first time in 6 weeks.
However Dowie would bring the house down by capping a superb display from his team, with the trademark "punch" at the Holmesdale. What price now on him working the oracle again this season?
They play "my song" - The Theme from the Saint before the start of every home match, Dowie will certainly become one if we stay up this season, the 3rd and final miracle required. I certainly believe that it will be a matter of when and not if, as long as we play like this for the rest of the season.
It is hard to pick faults on a day like today, but maybe one criticism could be that we should have scored more. We will never have a better chance to beat Fulham or score goals like we did today.
Keeping possession will also become more of a necessity as we did give the ball away cheaply in the second half. This seemed to be a symptom of going ahead!! As soon as Aki scored the second, the confidence spread around the team and the careless passes became less frequent.
But this is a day to remember, as Dowie seems to have got the earliest home win out of all of our previous incumbents embarking on a Premier league season. More of those unwanted records will fall, with the big "Rocket Man" at the helm.
Man of the Match: Aki Riihilati. Class performance and epitomised our spirit and never say die attitude.