October 7 2004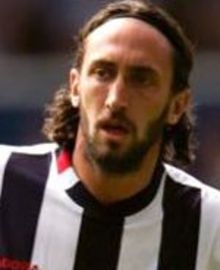 Most Premiership stories this season have followed life at the top of the table, with free-flowing Arsenal, goal-drought-in-Blue and Wayne Rooney Utd. But this week, like J-Lo, all the action was at the bottom, writes Matt Amer.
Before this weekend, after nearly two months of Premiership action, not one of last year's promoted clubs had mustered a win to settle them into the highlife, a point double-foreheaded Scot Alan 'woeful defending' Hansen has been revelling in like a Scouse pig in grade A shit. Not any more, as both West Brom and the mighty Palace have ended their top-flight ducks.
It's a bit of a shame, really, that the Midlander's game came days before ours, as the triumph of being the first team to win would have drawn a smile from even the mysterious inhabitants of Selhurst's executive boxes.
But they did and, with the help of Rasputin-a-like Jonathan Greening, managed to bring Bolton back to earth with a 2-1 sized bump. Despite resembling a historical Russian fiend, Greening is second only to our own Wayne Routledge in the 'Englishmen with most assists in the Premiership so far this season' table, though the secret to his powers is easily exposed.
Greening's hair band – a super-strength model to control his straggly locks – fell off for a five minute period on Saturday, during which he didn't know which way to turn or which way he was facing.
No Alice band = can't play football; as with Samson the correlation is simple. Cynics may claim that his power is not in his Alice band, suggesting naively that it was just that he couldn't see through his well cultivated mop top. Either way, remove the band of glory and Greening is rendered useless. Remember that lads.
But what do we need Greening and his 'special abilities' for? With not one sub-standard performance on the pitch on Monday and a subs bench to be proud of, seeing off a 10 man Fulham could kick-start our season. And in AJ we have the most prolific English goal scorer so far this season. Roon who?
Back near the top of the table, Man Utd are making headlines off the pitch, as their money men announced that they paid a whopping £5.5 million to agents last year.
Having let someone else do the maths [Number of Man U fans – Number who live in London + (Away fans making weekend trips up North – Number of those mugged before they had a chance to get a ticket) x a few made up statistics not worth mentioning], £1 from every ticket goes straight into the pocket of the man who, like a cartoon devil perched mischievously upon their shoulders, tells players they are better than they are and deserve a big money transfer.
Frustrating as it is to miss out on the 'big transfers', it gives me a warm glow, not unlike a crackling log fire on a cold winter night, to think that not a single, shiny gold pound of my fair English money has inadvertently found its way into the back pocket of one of the most corrupting forces in football. And all thanks to Simon Jordan's policy about agents fees. Thank you Mr Jordan, I salute you.
At Arsenal and Chelsea, the season is already beginning to turn into a broken record, though Arsenal's would be an upbeat dance track, while monotonous Gregorian chants would best sum up Mourinho's men.
Fantastically, like an overly pretty caricature of himself, Portugal's finest criticised Joe Cole for being too attacking this weekend.
England's most creative player, who scored the Blues' only goal, who was brought on as a replacement for striker Didier Drogba, was too offensively minded. Hmmm, I wonder whether Mr Mourinho has decorated his new London abode, or whether the thought of paint drying is too much for him to handle?
From the ridiculous to the sublime; Mr Va Va Voom scored against the Clowns with a back-heel from a tight angle while giving Jonathan Fortune a piggy back.
It was undoubtedly very kind of Thierry to take the weight of Fortune's already tired feet, but to abuse this position of trust to score the cheapest of cheap goals is appalling. Shame on you Thierry. But, with no sign of a super-powered hair band on the fancy Frenchman, the rest of the footballing world is still searching for a way to stop him.
---
Email Matt with any of your comments to matthewamer@yahoo.co.uk