October 7 2004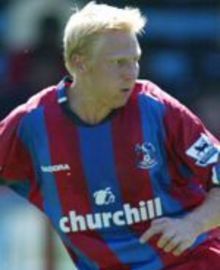 Palace beat Fulham on Monday night and it was definitely worth waiting for - and what a night it was, writes Ed Aarons.
Iain Dowie's newly-promoted side finally showed what they are capable of with a thrilling 2-0 victory over Fulham on Monday night that, in all honesty, could have been as many as six or seven.
Yes, this season's whipping boys (if you believe Messrs Hansen, Lawrenson etc) are off the bottom of the table and even boast the top English goal-scorer in a division that still includes the likes of Defoe, Rooney and Heskey (only joking!). AJ for England – he's got to be a better bet than Darius Vassell.
Haven taken up my pair of complimentary guest tickets in the Arthur Wait Stand just for being a season ticket holder (great idea marketing team!), the Fulham game had been ringed on the calendar for some time, as it was going to be my girlfriend's debut football match at any level.
Now I know more and more women are watching football than ever before, but it's still quite an intimidating atmosphere for someone who is only 5ft 2in and as we queued up at the turnstiles, the look on her face told its own story.
But, as all fans will tell you, it's when you emerge from beneath the stands and get your first view of that luscious green pitch and the dazzling lights that the hairs really start to stand up on the back of your neck. It is a similar feeling to the one I had in Cardiff, when somehow I knew deep down from that point it was going to be our day.
Anyway, the change of expression on her face when she first saw the fine arena that is Selhurst Park was something to behold – now I could see that mine and my friends' incessant ramblings about a team called Palace over the last nine months were beginning to make sense to her. As the game kicked off and we took our seats in an impressively full and surprisingly vocal Arthur Wait, I just hoped the boys would do themselves justice.
I needn't have worried, so assured was the way that Dowie's men went about their opponents. Ian Pearce's sending off undoubtedly helped matters but AJ had already come close and looked like scoring when he was hacked down by the ex-West Ham centre back, who was perhaps after some revenge for his old colleagues defeat in May.
From that point on, Palace bossed the game with some classy passing moves between midfield triumvirate Aki, Hughes and Watson creating chance after chance that were somehow kept out by a combination of the lanky Dutchman Van der Sar and wild finishing.
Half-time arrived with nerves already battered and nails chewed down but, even without a goal, I could tell she was hooked by the fact she didn't want to leave our seats in case we missed any of the game. My plan to introduce her to the world of half-time Palace pies back-fired thanks to excessive queues, though, and I spent most of the 15-minute break waiting outside the hard-to-locate ladies' toilet.
By the time we were back in our seats, the players were out on the pitch and ready to go. The game started where we had left off, with Fulham's Zat Knight doing his best impression of a confused giant and Wayne and Boycie running riot down the right-hand side.
Then, the moment where this Palace side proved they had the "bouncebackability" that their manager had craved arrived as Aki, playing like I have ever seen him play before, produced the perfect through-ball for AJ to race onto and score.
The stadium erupted and my first instinct was to lift my poor girlfriend off the ground in celebration, so happy I was that we had finally taken the lead. All you had to do to see the importance of that goal was to look at Dowie's reaction on the big screen – it means as much to him as it does to all of us.
After the goal, Fulham came back into the game slowly and had chances to draw level, but the impressive Kiraly stood firm. The second goal arrived at a good time, then, as I was close to a heart-attack every time Chris Coleman's team came into our half and there can be no-one who deserved the goal more than that man Aki.
From that point on, it seemed victory was assured but, perhaps somehow already knowing our team's penchant for messing things up when it doesn't seem possible, my girlfriend's nerves worsened. "It's not over yet," she snapped when I said we had the three points sewn up.
"Don't jinx it, you know what you're like."
And so I kept my predictions to myself until that final whistle, which sounded like music to the ears of the more than 20,000 Palace fans inside the stadium.
Back in the pub, my girlfriend was toasted as the lucky charm of the team, with numerous people cracking the same joke that she should get her ticket sorted for the Arsenal game on November 6. But with Waynaldo currently the leading Englishman on the assist charts and an emerging confidence beginning to seep through the entire team, we might not even need her.