October 11 2004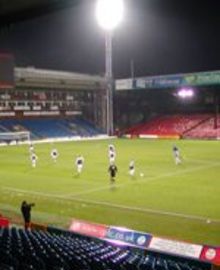 Ed Aarons last week wrote about taking his girlfriend to the Palace vs Fulham game (A woman's touch). Julia Berris shares her experience of matchday at Selhurst Park...
Football has never been a great passion of mine. I'd never followed a team religiously and felt despair when they lost. I didn't grow up playing with my mates in the play ground or the park and I've certainly never sat in the pub and discussed great foot-balling moments that have defined my life.
So, why are you writing about football? I hear you ask. It's simple, my natural intrigue leads me to believe that you should try anything once - well, almost anything. This is why I went to the Palace v Fullham match on Monday October 9 and I have to admit I had an excellent time.
Even before the game, walking to the pub, I could feel the excited atmosphere. Flocks of fans eagerly marched to Selhurst Park to watch their team have their first premiership win this season.
There was a great buzz in the pub. I was beginning to see why people enjoy going to a match. I felt a real sense of camaraderie and positivity in the streets.
I have to admit I couldn't take part in the obligatory conversations of fantastic Palace moments. I do feel like a typical bird at these times. So instead of saying something stupid like "doesn't Mark Hudson look like Dennis from Eastenders", I quietly took in the electric
atmosphere, sipped my vodka and tonic and waited to go to the stadium.
I was taken aback by the hordes of people outside the Selhurst Park. I was pleased to see loads of other women there. don't think football is as gendered as it once was. It's good to see that the girls aren't scared by this popular miss-conception.
The first thing I noticed when I got through the turn style and walked up the stairs of the Arthur Wait stand, was the light coming from the pitch. It was beautiful! I didn't realise it would be quite so stunning. Even now, a few days later, I feel shocked by the amazing light and the ambience this created in the stands.
We found our seats just before the game started and I was really looking forward to seeing the action on the pitch.
It was great to see so many families enjoying the game together. I have to admit I found my boyfriends choice of language rather embarrassing. I think he may have offended a few parents with his expressive views on player's performance and referees decisions.
I found the game truly exhilarating. Witnessing the pace and skill of the players was amazing. I don't think you can really see how much skill is required to play football on screen. Being so close to the action, I was starting to see why so many of my mates have season tickets.
The whole game had me on the edge of my seat. I was willing for Palace to score so much, I even starting shouting words of encouragement (slightly less blue than boyfriends). They had a good first half and made some great attempts at scoring. At half time I couldn't wait for the game to start again.
The second half really blew me away. Andy Johnson's goal in the 53rd minute created the most amazing sound around the stadium. Everyone was screaming with joy and singing the club songs. I was so happy to be there.
I know that Palace really needed this win so I was delighted to see Aki Riihilahti score his first goal since November 2002.
This experience showed me why people support a football team, especially Crystal Palace. They've come so far and have done so well, getting promoted last season. It's great to see so many people supporting their team and showing their love for a sport.
This experience has showed me that football isn't just something that other people enjoy and going to Crystal Palace won't be something I'm going try only once.
---
Feel like writing about a current Crystal Palace issue? Email it to us and we'll publish your words for Eagles around the world to read.