October 11 2004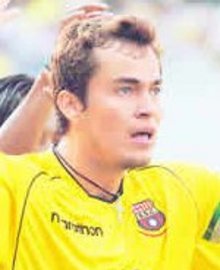 Ivan Kaviedes scored for Ecuador in his country's 2-0 World Cup Qualifying win over Chile.
Ecuador are fourth in the South American group table and travel to Venezuela for their next match on Wednesday.
Sandor Torghelle and Gabor Kiraly suffered a 3-0 defeat to Sweden while playing for Hungary at the weekend.
Aki Riihilahti and Joonas Kolkka both played in Finland's 3-1 win against Armenia and on Wednesday they visit Holland.
Tony Popovic featured for Australia in the Socceroos' 5-1 win over the Soloman Islands in the first leg of the Oceania Cup. The second leg is also on Wednesday.
Recent signing Vassilis Lakis was in the squad in the Greek's 1-1 draw with Ukraine.