October 28 2004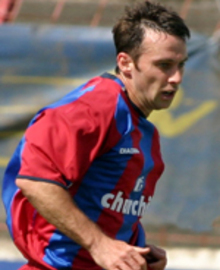 Dougie Freedman hailed 10-man Crystal Palace's battling qualities in their 2-1 win over Premiership neighbours Charlton.
The striker made a rare starting appearance in an under-strength Eagles line-up and cancelled out Hermann Hreidarsson's fifth minute goal in the 41st minute.
Sandor Torghelle netted the winning goal for the Eagles in the 54th minute, before getting sent off 16 minutes later for a second booking as Palace held on for a deserved win.
"It was a great team performance," said Freedman. "I thought we stuck at it and when we went a goal down, it could have gone the other way. We've got a young team and I think we deserved to win the match.
"I got a good goal but it was a real team performance. We battled well with
10 men and showed our battling qualities - our energy levels were unbelievable.
"Once we got our goal, I thought there was only one team in it. We looked stronger and nobody can complain because I thought the result was right."
Freedman owed the win to the Eagles' gut-wrenching training regime under fitness guru John Harbin.
"We train very hard and prepare ourselves for this kind of game away from home and it reaps rewards when we're down to 10 men," said Freedman.
"Then it's all about battling and we showed a lot of desire and heart. Harbin is a fitness freak and has got us training hard. It's tough at the time but when it comes to matches like this, you dig in and find the extra five per cent."
The fact it was a Palace reserve team, made victory even sweeter. And it says a lot about the squad boss Iain Dowie has built up at Selhurst Park.
Freedman said: "Charlton are a decent Premiership side but we have a good squad and any of the players can be called upon to do a good job - and we proved it.
"Everyone wants to play and Dowie can call upon any of us to do a job. We're waiting for the chance which makes for a great team and a great feeling for the manager."
And Freedman reckons the victory proved Palace are capable of avoiding relegation.
"I think we have more than enough to stay in the Premiership," added the Scot.
"It took two or three games to get going and now we're on a mini roll and getting better in each game, fitter, stronger and more experienced in the Premiership. I do think we can stay up."