October 29 2004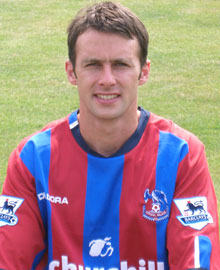 Having left it too late (and living in Bucks now so not able to pick up from Selhurst) we had to go in with the home fans, which was a case of sitting on hands and keeping mouth shut all the way through as they throw out away fans spotted in the wrong part of the ground, writes Rick Eveleigh.
Yes I do love Palace but I can't stand up to show it. Never mind, 3,000 in the away end did. Got there 20 mins late too so missed the first goal. Up in the top of the west stand the view of the sold out Palace end was awesome and what a noise we made, my favourite had to be the Sandor Torgelle chant (a la "Pau-lo Di CAN-i-o) after his goal.
Sitting in the home fans did remind me of being at Palace a bit, I have to say, there was a certain amount of gallows humour at their performance which was admittedly totally useless. Mid 80s Palace anyone? Various comments near the end of "I'm converted", "I'll have to start supporting Palace".
I went with two mates, Derby and Plymouth fans who were well placed to provide unbiased comment; they couldn't believe the lack of movement among the Clowns when we went down to ten men -- at times they left up to 4 back just to look after the Doog. We all know he's great but he's hardly got AJ's pace now, has he. The Saint in his report says our boys were "hungry to impress", well the Clowns obviously weren't.
Random bits from the game:
* Hardly recognising my own team, look, I only go to one game a year these days and we haven't got Sky. (Last year's was Derby away (1-0) and the year before Wimbledon home (4-0) so I'm on a roll!!)
* Doog's goal, his shot was so casual I thought he'd missed, but no, a lovely curl into the top right corner in front of the travelling faithful and a beautiful rendition of Doogie Wonderland to follow.
* Danny Butts having a wee "discussion" with Dowie and a bit of finger pointing, I thought he looked very rusty and a bit casual.
* The half-time highlights on the "big" (well, it's bigger than my telly but that one is a portable) screen, anyone else notice they did replays for all of Clowntown's action but only showed our goal once? You didn't, well you can't really see the screen from the away end, no surprise there.
* Sandor's trip round the whole team and the whole bench to celebrate his first goal.
* Sandor's dive, why? He looked clean through anyway. Hope that teaches him. Muppet.
* Speroni's incredible double corner saves, Charlton wag behind says "if we can't score against this muppet then..."
* Jason Euell: BIG shorts!
* Jeffers. Nuff said. Barn door?
* Team celebrations at the final whistle; Dowie runs over to see Curbs, then makes sure he goes round the whole team, then the bit I was waiting for, big buildup from the fans and the victory punch. For years I've been going to away games and wanting the team to make a bit more of it on those rare occasions when we win!
I was at Anfield for the 0-9, oh and the 0-5. So to be there for the 2-1 when Gabbiadini flicked it in in front of the Kop was sweeeet. Let's have more celebrations like THE game. Villa Park 1990 of course! Great to hear our allocation for Anfield's sold out again, have a great day out, hope the lads do us proud.
That'll do...
Rick Eveleigh
Exiled, 3 kids, Princes Risborough, Bucks