November 17 2004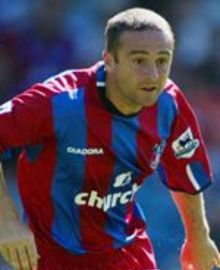 "You're not famous anymore!" was the cry from the faithful hordes of Palace supporters that populated the Anfield Road Lower Stand, writes Simon Pophale.
Indeed they are not, but we are not the mugs who under the reigns of Coppell and Smith saw our boys get hammered out of sight by Liverpool, Arsenal and Manchester United in the past. Iain Dowie has dispelled the also ran theory and increased our "bouncebackability" over this season. But this was certainly going to be a big test.
That test was made even bigger as Andy Johnson and Fitz Hall were not match fit so in thier places came in Dougie Freedman and Mikele Leigertwood.
AJ's hip keeping him out of a game that certainly he would have relished and even with Doogie being a decent replacement, pace is not his game and with the formation relying on AJs pace, this could be a long afternoon.
As with the Carling Cup game in Midweek away at Manchester United, we started very slow and it was painful to see the Liverpool midfield dominate in the way that Arsenal had started against us in the previous league game.
Worse was to follow though as first Leigertwood and then Boyce gave the ball away needlessly putting our defence under extreme pressure. Pressure, caused by ourselves no less. The first 15 minutes was all Liverpool, save for a Ben Watson effort which flew harmlessly wide on 4 minutes.
However it was obvious that there was a huge gap in class between the 2 sides. Liverpools midfield of Kewell ,Hamman, Riise, Alonso and Garcia which backed up the excellent Milan Baros, a world class player up front, was always going to cause damage. However for all Liverpools possesion, Gabor Kiraly was not troubled too much in the first 20 minutes.
But it was a poor defensive lapse which led to the first goal. Riise and Kewell worked an opening which dissected our defense and Leigertwood went straight through Milan Baros who fell in a heap on the ground.
It was a cast iron penalty, although you dont need to tell Baros twice as he goes down as soon as the wind changes across the Mersey. He picked himself up and scored from the spot.
Liverpool continued to attack and it was going to be a long long afternoon, Baros was wreaking havoc and went down again on the half hour under a challenge from Boyce. However the referee was not interested. I for one thought that it was another pen.
Despite this being Anfield and Liverpool being at home, we got a lot of decisions our way in the first half. However if you were listening on the radio at home you could be fooled in thinking that the Liverpool were the away side. We were magnificent in the match and Liverpool fans seem to have given up.
The chant of "Liverpool, Liverpool" which used to be worth a goal start back in the days when they won Championships was gone and so had the banter which the Merseysiders have been long known for.
All that you could hear was "Alan Hansen, is a wanker, is a wanker", " You'll win nothing this year" and " You're supposed to be at home". Indeed, the only shout from the Liverpool fans was when they scored. The Premier League's Prawn Sandwich brigade was back.
However with Liverpool dominating proceedings, it came as a huge, but welcome suprise when on 44 minutes we crafted a superb equaliser. Ben Watson drifted the ball over the top of the Liverpool defense and Joonas Kolkka on the edge of the area cut inside and unleashed a dipping volley over Kirkland in goal and we were level. Cue mass Hysteria and even more singing. Goal of the Month. Alan Hansen is on the panel for that, no need to figure that one out.
1-1 and all to play for. But almost immediately the same combination that undid us for the first goal, repeated the feat as Riise played the ball wide left to Kewell who was totally unmarked and he put a cross in which came straight across our back four and from all of 2 yards, Baros made it 2-1.
Gutted, did not even cover it. Kewell could have added to the total minutes later, but Kiraly made a good save. To go behind so close to half time, was surely going to take the wind out of our sails.
But this a Dowie led Palace and even though Liverpool came out of the blocks faster again, it was only 7 minutes before we were back on level terms. Ben Watson, who was outstanding again, sent Kollka wide on the left and his pinpoint cross was met my Micheal Hughes whose header beat Kirkland.
2-2 and Liverpool were rocking. This was a super resiliant team that Dowie has given us and the memories of all those past games against Liverpool were fading fast. We are a real Premiership team!
But Liverpool had Baros. Minutes later he went down under a light Aki challenge and one of the most humourous sights seen yet at Liverpool (since our 9-0 drubbing, Emile Heskey generally and Phil Thompson's nose) occured as Kolkka, clearly unimpressed with the diving skills of Baros, flung himself to the ground in a mock impression style in of the ref Phil Dowd. Dowd, was also not impressed. He booked Kolkka.
The rest of the half really was more 50-50 than anything else. Liverpool kept the ball well but we tackled bravely and closed them down. Fitness was telling and Harbin had worked wonders again.
We looked stronger but we were unable to keep the ball for long periods. Liverpool did have the ball for long stretches, but did very little with it. Kiraly had not too much to do, but was busy with a succession of corners and free kicks.
Time was winding down but as it did so, our boys were wilting and Aki came off with an injury to be replaced by TOM SOARES. It was going to be a key moment.
Despite all the pressure from Liverpool, 89 minutes on the clock and it was still 2-2.Until a Palace foray in the Liverpool half ended with SOARES losing the ball, Riise passed to Kewell whose 25 yard pass was gratefully recieved by Baros and Popovic hauled him down. Another penalty. Kiraly booked and it was all over, 3-2.
Harsh and for all our endeavour, it was going to go unrewarded. There was still much to be proud of though and the so called Nightmare November was not so bad after all.
We still have a team to be proud of. In Ben Watson, man of the match in my opinion, a real star too.
Bring on Newcastle and the out of Tune Army.