December 1 2004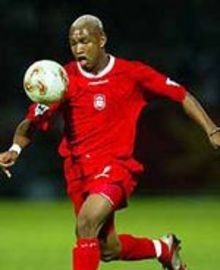 The Reebok Stadium: a quiet, peaceful place where Sam Allardyce has engineered a remarkable transformation, turning Bolton from relegation certainties to European hopefuls; a place where a tight defence, hard work and a team spirit win the day, writes Matt Amer.
Until this weekend, when it became the home of footballing controversy.
To kick things off, visitors Portsmouth arrived without a manager, as Harry Redknapp had had as much of the salty air, seagulls and naval history as he could take and resigned.
His decision came just days after Portsmouth appointed Velimir Zalec as Executive Director, a position which Redknapp felt unnecessary – although the two events, according to any number of Portsmouth spokespeople (who all wore eye patches and referred to journalists a land lubbers) were completely unrelated. To the layman's eye, the events seem as unrelated as a pair of incestuous twins.
On the way to Pompey recording a much needed away victory, another event caught the eye. The real talking point of the day was El Hadji Diouf's inability to control his bodily fluids.
The serial spitter (insert Cornflake gag here) was at it again, flinging phlegm in the face of Pompey goal scorer Arjan De Zeuuw after failing in yet another attempt to fool a referee into awarding a penalty.
A couple of words of advice Mr Diouf, for I know you are an avid user of the HOL. Firstly, any central defender in the country could stroll up to you in the penalty area, pull a cunningly concealed baseball bat from their shin pads and give you a damn fine thrashing, and you still wouldn't win a penalty.
Want to know why? No, not because the entire stadium would be applauding and pretending they hadn't seen a thing - though this would also be the case - but because, like a call girl with poor acting skills, you fake it so much that no-one believes you any more.
Secondly, and I'd have thought you'd have learnt this by now, if you're going to sink to the level of pond life – stupid pond life at that – and spit in someone's face, don't do it at a game being covered for television. Here in the 22nd century we have cameras that record everything you do allowing us to watch it over and over again.
Sadly no-one, at this stage, has given the Senegalese superstar the benefit of the doubt. He may have just been trying to have a rather vociferous word with De Zeuuw and, as sometimes happens, lost control of his mouth-based fluids.
If this is the case, when he finally gets banned from professional football for persistent spittle offences, there will certainly be a job for him as a physics teacher.
The way Chelsea are playing at the moment, the Premiership title race could be over by Christmas. Jose Mourinho, also an avid HOL user, has clearly taken note of our distaste for his overly defensive football and launched himself, like a particularly well groomed astronaut, into attacking play.
Even his defenders are getting in on the act, John Terry picking up two against Charlton. Sadly, Mourinho hasn't had time to learn everything about English football yet as, in his post-match interviewed, he referred to the importance of the next day's match at the world renowned home of Liverpool, Anfield Road.
At Anfield Road, Arsene Wenger started to weigh up the possibility of a relegation dogfight as Arsenal slumped to two Premiership defeats in 50-odd outings. Having dipped to a dismal second in the table, alarm bells were ringing in Arsene's ear as Neil Mellor, with the last remnants of energy left in his body, struck a long range effort goal-bound.
He'd never scored a Premiership goal before, in fact, he'd barely broken into the 'Pool first team: They're taunting you Arsene, even teenage nobodies can score against you these days.
David O'Leary recently announced his intention of making Aston Villa a regular 'top six side'. It seems no-one thought to tell his players though. According to The Official Definitions of Footballing Terms and Clichés, a regular 'top six side' is one that will dispatch mid-table and relegation fodder teams when they play them at home. Cue Kevin Keegan's (I love) Man City and pocket rocket Sean Wright-Phillips to dish up a large portion of humble pie.
Things could have been very different had O'Leary explained to his players before the match that they were a 'top six side'. Their '30 goals a season' striker Juan Pablo Angel might have scored his penalty, or at least guided the subsequent follow-up header into a gaping goal rather than over a mocking crossbar.
And their 'midfield dynamo and future England captain' Lee Hendrie might not have seen fit to aim a playful fake headbutt at Danny Mills. On studying replays, it looks like Hendrie was just trying to scare the City fullback; I know a close-up look at little Lee's immaculately waxed barnet would put the fear of God into me.
The real shock of the weekend came at St Andrews, where Birmingham drew 1-1 with Norwich. Yes, the score line probably could have been guessed by a wizened old man who had spent the entire 70 years of his life living in a cave in the Himalayas; it was how this came about that was shocking. The Canaries equalizer came from the boot of Premiership wanabee Darren Huckerby, a player generally considered less likely to score than the Pope in a nunnery.
Birmingham's goal came from AJ-makeweight Clinton Morrison, who was just excited to have started a match. But more, much more than this, Morrison's goal came from a knockdown by Emile Heskey… who didn't fall over in the box after winning the ball! I had to rest for a good couple of hours after seeing that. Just writing it has made me feel giddy again; I'm off for a lie down.
---
Email Matt with any of your comments to matthewamer@yahoo.co.uk