December 6 2004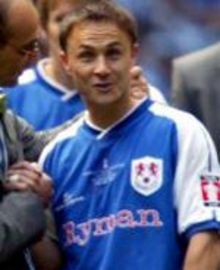 As you watch your team climb up the Premiership, spare a little thought for the sad and neglected people of Millwall who, despite numerous attempts, have yet to make it to the Premiership or find shirts that adequately fit their fat bodies.
This song goes out to all the Scumwall fans out there who are destined for a life of disappointment. We call it Wall Aid:
Do They Know It's Christmas?
It's Christmas time,
The Wall are so afraid,
It's Christmas time,
They've not got enough points from the games they've played.
But in our Red and Blue world of plenty,
Dowie spreads a smile of joy,
Throw your arms around a Scumwall fan,
At Christmas time.
But say a prayer,
Pray for the blue and whites,
At Christmas time, it's hard,
When your team are playing shite.
There's a world outside your window,
And it's a world of the Lions' fear,
Where the only water flowing,
Is a whining fatboy's tears.
And Cahill's mobile ringing was the clanging chime of doom,
Well tonight thank Theo it's them instead of you.
And there won't be many points for them this Christmas time,
The greatest gift they'll get this year's a draw,
Where no pass ever goes,
No flick or long ball flows,
Do they know it's Christmas time at all?
(Here's to us),
Promotion with Sunderland,
(Here's to them),
Getting beat off Preston.
Do they know it's Christmas time at all?
(rentamob) Feed the Lions (Let them know Greggs makes them bloat),
Feed The Lions (XL shirts are way too small),
Feed The Lions (See you in Division One).
Every £1 raised will help to support the thousands of single mothers around Bermondsey, until they leave school and can claim from the social.