December 7 2004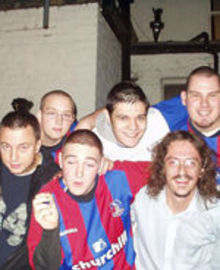 On Saturday January 1 2005 HOLers ElliottHutchins, Bedge, JayT, Perry Suckling, Superfly, Ricky, Danger and either Pikey_Eagle or Kingsley will be appearing on Sky's Soccer AM show.
We can assure you can look forward to seeing a great performance by a group of hungover HOLers all of whom will be drooling over the Soccerette, making fools of themselves while trying kick balls through a small hole and having much joyous fun with the crew.
There is also rumour that a certain Hells Bells may be doing her annual fire-eating act.
Catch the show on New Year's Day at 9am on Sky Sports 1.