December 21 2004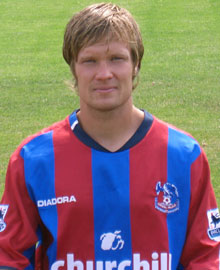 The festive season is here, and with it comes the usual fayre of Christmas films. One of which, entitled "A Series Of Unfortunate Events" embodies this game and our season so far, writes Simon Pophale.
So lets face it, we were overrun and the scoreline possibly does reflect the quality of the team that we were up against, but I still feel it harsh a scoreline from such a gutsy performance from the lads.
Dowie clearly felt that team needed a bit of a change so he dropped Popovic, who had been not looking up to the task, for the fit again Gonzalo Sarondo, while giving the captaincy to Micheal Hughes.
Before the game, Ryan Giggs was due to be presented with an award (not for being the only gay in the village, as some "wag" pointed out) for making over 500 appearances.
Seeing so many of the United players making over 300 appearances, it was 8 years before, since our last 300+ man, Nigel Martyn achieved that feat. A statistic which showed the huge gap between the teams. Succesful teams, simply dont lose players regularly due to them wanting to move on to bigger things.
But from the moment we kicked off, it was going to be an uphill struggle. In the self styled "Theatre of Dreams" or what I more like to call "Theatre of blatant biasness" with Steve "Your have been, or soon will be" Dunn casting a leading role, we were never going to get the rub of any green that was to come our way. It only took 2 minutes for United to win a corner, which Kiraly caught with ease. He would be busy this afternoon.
It was almost incessant attacking from the home side. Paul Scholes, trying an audacious overhead kick which was saved by Kiraly. But worse was to come. We seemed to be acting like Rabbits caught in headlights.
With United surging forward at every opportunity, Keane, Scholes and Fletcher all smelt victory or more likely fear as the attacks kept on coming, Sarondo and Hall, doing thier best, found it hard to contain the threat and from a Keane pass, which did not get clear, the ball came to Fletcher and as it did so, Granville tripped him on the trailing leg and he went down, a little easily but at Manchester United, the wind only has to blow before the referee would do the same. A penalty was given.
But Wayne Rooney - £30 million pounds, was to come up against the in form Kiraly and the man that cost nothing saved the teenagers spot kick. Justice you could say had been done, but it finally gave us all something to cheer about in the stands.
Indeed, the match may have had United dominating, but in the stands it was all one way Palace traffic. Our small corner of merry souls were making more noise that the 64,000 odd United "fans" were. Maybe they were all munching on thier prawn sandwiches......
Gabor's save started to give us a whole lift and despite the slow start, it took us only another couple of moments, before we carved out our first chance. On 10 minutes, a quick Kiraly pass went straight to Andy Johnson whose pass to Kolkka saw the Finn get away from Gary Neville and his cross was cut out by Roy Caroll.
But all this served only to sting United to come back for more. Quinton Fortune took on Emmerson Boyce but found the former Luton man an insurmountable wall. Once again, Boyce was not going to be overawed by any occaision.
But it was going to be a long afternoon for our defence, with the ball remaining in our half. Keane, was pulling all the strings in midfield and he was a constant menace. He shot over from distance but with Kiraly pulling off save after save, sooner or later we had to cave in. Sadly it was sooner.
A quick corner was played out to Keane and his pass into the box was picked up by Scholes who danced past Boyce and shot past Kiraly from close range. 1-0 and for the first time, we heard that there WAS some Manchester United fans there.
However, going 1-0 down seemed to be somewhat inspiring. For one of the first times in the game, Steve Dunn finally adjudged Darren Fletcher to have caused a foul (what was he waiting for, decapitation) and a quick Hughes pass found Kolkka who forced Neville into a corner.
Routledge sent the ball over from the left and on 28 minutes, the almost unthinkable occured as Danny Granville atoned for his earlier error by lashing the ball in from 15 yards. 1-1 and we went potty. Partially in disbelief, but also now in defiance, we could beat these!!!
Ferguson clearly felt that we were up for the fight, and he made a substitution, taking off Quinton Fortune and bringing on John O'Shea. Clearly, a sign of respect that we did not come to roll over and let them have 3 points. Rolling over must clearly have been prominent in Steve Dunns' mind when it came to judging Rio Ferdinands challenge on AJ as well. It was a game of 12 against 11, this was now painfully obvious.
Meanwhile, the ever threatening presence of Roy Keane in midfield was becoming now a potentially alarming situation, his second effort was hit with some venom and Kiraly tipped it over for a corner. Paul Scholes, sent the corner over and Alan Smith headed almost unchallenged into the corner. 2-1 and the so called "support" cheered another goal, despite thier total passivity for the entire first half.
There seemed to be a running battle between AJ and Ferdinand, as another United possession was broken up and AJ came away with the ball, only to be ushered off it by Rio, and in chasing the ball to go out, he lashed out an arm which sent AJ to the ground. Referees' verdict? Throw in.
At least, if we werent going to go in ahead at half time, we were not going to abandon our principles, and for the next 6 minutes, we passed the ball around without a United player touching it, bringing choruses of cheers from our contigent, you could almost feel the United fans anger. I say almost, as the whistle blew for half time as we had not played badly at all. United fans, clearly munching on half time amuse-bouches, said nothing.
Then came probably the most choatic 5 minutes of football, since Everton and that Speroni classic moment when he thought he was Maradona but was more Taricco. Immediately from the kick off, Fitz Hall fed Michael Hughes and his cross was met by the firm head of Joonas Kolkka - 2-2 and now the Old Trafford faithful were stunned - this time in disbelief.
But as ever, as soon as we get on level terms, this seemed to instill the fear in the back four and give United a reason to come at us. This they did and although Kiraly blocked a shot from Rooney, with the ball going out wide to Fletcher and his cross was met by a combination of Kiraly, Scholes and Boyce, Kiraly missed it, Scholes was squashed and Boyces' bonce connected with the ball and despite Hall's desperate dive, it was too late and it was 3-1.
Which sooner became 4-1 as total panic in the penalty area ensued and from close range and totally unmarked Paul Scholes made it 4-1, with a fierce shot which Kiraly had no chance to be fair, in saving.
Giggs then went on a mesmersing run which ended in a shot being well saved by Kiraly (how many times was he going to be a hero for us?!) but as the half drew on, it became a niggly affair. We tried to pass it around and each time, found ourselves muscled off the ball, while in our attempts to win it back, every infraction, however minor was being punished by Steve Dunn. We had been, like kippers.
"Its just like being in Church we sang" due to the lack of United passion. There was a small pocket of resistance with a tiny "United, United" chant, but if on the pitch we were getting pasted, off it we taught the United lot how to support a team. We had done ourselves really proud.
On the hour came our last real effort on goal, a well worked move which saw Granville pass to AJ, who in turn set Routledge free but with Silvestre at close quarters, still brought out a good save from Roy Caroll in goal.
But that, really was it. Dowie had brought on Soares and Lakis, for Aki and Hughes, but it made little or no difference. Wayne Andrews came on his namesake Routledge, while Wayne number 3, Rooney, made Kiraly work again with another shot that was turned away for yet another United corner.
4-2 would have been a fair result, all things considered. However OShea nipped in after a Giggs pass and made it 5 from close range right on the whistle. We had battled gamely, but with the class of Giggs, Keane and Scholes, it was always going to be hard. Even without Ronaldo, Heinze, Saha and even Ruud Van Cheatallrooy, they are still some propostiton.
So to our Men of the match - and I have called this one a three way tie, between Gabor Kiraly, Gonzalo Sarondo and Joonas Kolkka. Sarondo, because he filled in at the back where he looked like he had been playing all season, not looking like he has had a lay off of any sort and Kolkka because he gave Gary Neville a torrid time, which shows that we do have players of real class.
Kiraly, surely, must be the buy of the season. Kolkka and Kiraly cost nothing. But they bring so much to our team. It would be impossible for us to even be at the races without these guys today - full marks to Dowie to getting them.
It was hard to be scathing, with so much effort and so much good things that we can take out of this game. Yes we lost, we got thrashed I suppose but maybe this is the wake-up call that we all needed as we had not been beaten heavily all season. I did not go back down the Motorway downhearted.
In fact, the mood was lifted as we stopped at a Service Station on the way back. Seeing 2 coachloads of United fans brought a huge smile to my face as all those chants in the last 10 minutes of "See you on the motorway" were actually true!! Funny and yet, poignantly pathetic at the same time.
But like the Lemony Snicket movie named at the start of this article, like it says on the poster, we should all be very concerned, as we slipped into the relegation zone for the first time in about 6 weeks.