January 1 2005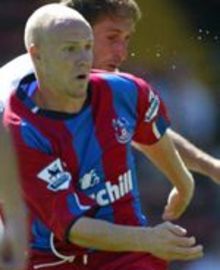 This will be the day that, in May, we Palace fans will look upon as the day our season possibly changed for the worse, writes Simon Pophale.
With 3 points separating us and the Riverfolk before todays game, a win would have put us in the frame to start climbing the table. After the hugely encouraging performance at Spurs, I myself, along with many other Palace fans no doubt, thought that we could have taken all 3 points from this game.
The opening period did little to change that opinion either. TOM SOARES firing wide when it would have been easier to score, after only 2 minutes, from a long Gabor Kiraly kick. But Fulham made a chance of their own, 2 minutes later.
Danny Granville and Andy Johnson ending up chasing the same ball, getting in each others way and this led to the ball running loose to TOMasz Radzinski who fed an unmarked Andrew Cole who fired home from the edge of the Penalty area. 1-0 and the game was already slipping away.
Luis Boa Morte, then skipped down the left and sent in a cross which was thankfully not met by anyone in a white shirt. But while we weren't conceding anymore goals, we were missing chances, TOM SOARES again the culprit, heading over from close range after a superb Wayne Routledge cross.
Even before the 10th minute had passed, SOARES had yet another chance, again placing it over. The Fulham right hand side was empty every time, yet SOARES found space every time. Had it been a player of more finishing ability, such as Torghelle, we would and should have been 2-1 ahead.
But the goal had unsettled us and Boa Morte was causing havoc on his return. Radzinski and Boa Morte provided a steady steam of crossed and intelligent attacking play, trying to kill the game off. Fulham were having the majority of the possession and were winning free kicks, but fortunately for us Mark Pembridge was not able to convert any of the opportunities into goals. Andy Cole was looking to add to his tally, but flashed another shot wide on 22 minutes.
Craven Cottage may have changed over the years and its now tight stands leads to a good atmosphere, which we most certainly contributed to. The Putney end, which felt like a temporary stand, was a cauldron of noise, which was left unanswered by Fulhams contingent. They would get their chance, we were desperately trying to encourage a side, who had created very little since falling behind.
All of the good positive play created by ourselves came from Wayne Routledge. It was his cross that earnt us our first corner on 23 minutes, However Fulham then charged down the pitch and won another corner of their own, showing that going forward, they were a dangerous outfit.
But we were coming back into the game Routledge shot straight at Edwin Van Der Sar, before SOARES had yet another chance after bing set up by AJ. Again, the result was like all the others, high and wide.
However the direct route to goal was our best chance of getting some reward and it provided the turning point when a long kick from Kiraly saw AJ beat a sluggish Knight and Van Der Sar brough him down, a clear penalty but no card, of either variety were shown.
While Dermot Gallacher may not have been forgiven for "that" transgression against Leeds in 2003, he should have shown at the very least a yellow to the Dutchman. Nonetheless, AJ buried the spot kick, for his 11th of the season.
But as so often this season, when we draw level,we instantly go on the back foot and this was no diffferent. Boa Morte, Cole and Radzinski all had chances before Gallacher blew for half time.
The 2nd half started on a positive note, Danny Granville teeing up Vasillios Lakis, who showed that he was no striker. In fact, his shot almost went out for a throw! But from then on it was a sloppy, disjointed performance. We managed to stay on level terms up until the hour mark, when Cole marked an already impressive game with a second goal.
Popovic was sold a clever move by Cole, who finished coolly from 6 yards. Poppa was totally outclassed by the former England striker, who banished any talk of needing 5 chances to score a goal.
In fact, the half descended into the worst performance since Crewe in December 2003. Poppa and Hall were giving the ball away at every turn, we never got out of our own half and more worryingly, seemed to totally panic under the pressure.
Boa Morte was everywhere, given Poppa, Granville a torrid afternoon. Hall gave the ball away dangerously in our own half (well we werent getting out of it, Boa Morte had the ball in the back of the net, but was thankfully adjudged to have been offside.
Dowie tried to remedy the situation by bring on Torghelle and Leigertwood, in the hope that it would re-ignite our performance. Sandor chased everything down but with little or no support, was feeding on scraps.
However, with Fulham ruling the second half from start to finish, there was no surprise when they went 3-1 in front, although the manner of which was really quite embarrassing.
Cole, not satisfied with making Popovic look like a Championship player at best, was fed by Malbranque and with Cole eluding a far too eager and over committed Poppa, the ball bounced across the area where the entire Palace defence froze, to watch Radzinksi put the ball in from 3 yards. Kiraly, the only to react, was helpless to stop the ball bobbling over the line.
Palace fans at that point had seen enough and started leaving in droves. Fulham fans, who had been in good voice since the 2nd goal, kept the noise levels up and those leaving feared it could only get worse from here on in, had seen enough.
It nearly did get worse. Poppa gave the ball away on the edge of the area to Andy Cole, thankfully Coles ball drifted across the box, Boa Morte, unable to finish the job.
The last (and possibly only) action for us was a Routledge free kick which came to nothing, Butterfield having his shot blocked. TOM SOARES ended the afternoon kicking out at Cole, which sparked a melee of about 15 players. It was all handbags, but SOARES who was already booked, got away without any further punishment, Popovic though was booked for his part in the pushing and shoving to cap a very poor day at the office for him.
There is no way to describe the anger and disappointment felt at the end, a real chance to launch ourselves out to the botTOM three had come our way and we had blown it. Kiraly, Butterfield and Routledge were the only ones to really impress. AJ had his moments but he too was guilty of giving the ball away. Knight did marshall him well. Pumping long balls to a 5 ft 8 striker against a 6 ft 4 defender is NOT the answer.
Taking off our main midfielders in Hughes and Aki for an ineffective Leigertwood led to Fulham running rampant and rendering Andrews and Torghelle impotent and by the end, it was hard to see what formation we were actually playing, it had become so disjointed.
We havent ever played as bad as this, so far this season, Everton was a Speroni abberration, rather than a collective poor showing. But we wont stay up like this. In fact, we have now dropped into the botTOM three with the results today, meaning that the Villa game on Monday takes on added importance. So far, 1 point out of 9 has contributed nothing to the cause of our survival and with players like Popovic having to play as injuries again robbed us of Sarondo, Kolkka is still out and while Lakis did very well again, he is not a left winger.
We need a left back, centre back and 2 left footed midfielders to provide some balance. 4-5-1 always leaves us short up front, despite AJ working his socks off. We don't make enough chances and we don't retain the ball at all. 2 aspects that we need to address immediately, now the marketplace is open again.
If Fulham can bag Cole and Radzinski, surely we can bring someone in. When a team with players like Bocanegra, who to be fair, is pure pony, beats you, you know relegation cannot be far away. We wont have any new players before Villa. It could be another Black Monday coming.