January 5 2005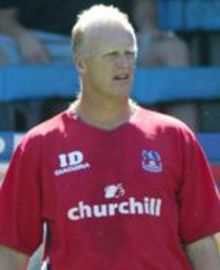 When Monday's game against Aston Villa came to an end, it marked Palace's first win since October and the relief around Selhurst Park could be sensed in the cold January air, writes Ed Aarons.
As the team congregated for their post-match huddle and Iain Dowie waited patiently to give his now-customary fist-salute to the Holmesdale Road end, hopes of surviving in the Premiership look much more realistic.
Norwich are now two points behind in the relegation places and the Eagles can go into this weekend's FA Cup trip to Sunderland full of confidence.
But with Blackburn having risen up to a comfortable mid-table position in the last few weeks, the list of relegation candidates is steadily shortening, with the three newly-promoted teams all still under threat. Of last season's Premier League teams, only Southampton are now eyeing the table nervously, with Harry Redknapp having failed to make an impression as yet after his South Coast defection.
And therein lies the problem. A few weeks ago, the likes of Fulham, Birmingham and even Manchester City were being touted as potential members of the relegation dogfight club, season 2004/05 edition, but December has widened the gap between the safety of mid-table and the bottom three. No wonder Mr Dowie was so delighted with Monday's victory.
"For too long we've been on a bad run and nobody's got away from us, which is fortunate," he said after the game.
"And we have to take advantage of that because we can't rely on other people losing all the time. It's up to us to look after ourselves."
While Palace struggled to score in successive home games against Newcastle, Charlton, Blackburn and Portsmouth, the four sides stranded at the bottom also failed to make any major inroads up the table, meaning that Monday's win was enough to leave daylight between the all important 17th and 18th positions.
Now it is vital that Dowie's side continue their progress by taking points in the forthcoming trips to Manchester City and West Brom and home matches against Spurs and Bolton.
The key to that, judging by Monday's performance, will of course be whether Andy Johnson can maintain his amazing goal-scoring feats (he has scored 13 out of Palace's Premiership total of 23) but, potentially more importantly, it will also rely on Wayne Routledge and his continued involvement at the club.
Rumours have been rife amongst many Palace supporters that the teenager will be moving on in the coming months and until Monday, that did not seem such a dismal prospect with Vassilis Lakis waiting in the wings literally. But after a performance that saw the wunderkid dazzling all over the pitch, surely Dowie and the Palace officials will act to offer him improved terms.
While the three points were most welcome against Villa, only the most die-hard Eagles' fans would suggest that our first half performance was good enough for the team to survive this season.
For the first half hour, it looked as though the poor home run was set to continue, with the visitors bombarding the magnificent Gabor Kiraly with shots and it was only the triumvirate of Lakis, Johnson and Routledge who appeared to offer any real hope.
Selected in his usual berth on the right-wing, Palace's England U21 international popped up all over the pitch to torment the Villa defenders with his delightful skill and trickery. In the past, Waynaldo has been labelled as somewhat of a 'showboater', but now he is starting to have a match-winning impact on games at the highest level, as shown by the fantastic play that led to the penalty.
Perhaps it is time to give him a more central role in support of Andy Johnson and bring Lakis on to the right wing when Kolkka returns?
We will have to wait and see what Mr Dowie decides.