January 22 2005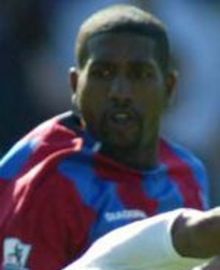 A great display by Iain Dowie's men see the Eagles beat Tottenham Hotspur 3-0 at Selhurst Park.
All three goals were scored in the second half. Mikele Leigertwood opened the score with his first goal ever for his club. Not long after Danny Granville made it 2-0 and Andy Johnson rounded it up from the penalty spot.
Spurs were injury ravaged with no Kanoute, Davies and Davis. At least we could call on the services of Danny Granville and Micheal Hughes, both suspended against Manchester City.
All the attention was going to be on our Wayne Routledge, with our opponents courting him in recent weeks. Again,in true Spurs style, they have tried to get him on the cheap with a derisory 1.5 Million pounds bid. Two words, no chance.
Although, after a terrible first half, that did look like 10 times too much as Routledge and to be fair both teams, had a stagnant time of it. With the Spurs fans chanting "You're Spurs and you know you are" to Wayne, he clearly was off form. Misplaced passes, awful corners and no real self belief was apparant from the young midfielder.
None the less, he did not look out of place as the best chance for us came in the 44th minute from Mikele Leigertwood. Spurs, had a few more chances with Kiraly saving well from Dean Marney and Reto Zeigler, before a Marney drive was pushed away at full stretch from Kiraly. He even managed to do a cheeky roll after another Marney snapshot was saved. but that was all the 1st half could offer.
The 2nd half was much the same, although Spurs looked far less likely to create anything with the loss of Reto Zeigler, who was replaced by Timothee Atouba (he's a big fella!) just before the end of the half and it was clear that coming up to the hour, 0-0 was looking like the most likely outcome.
However, then it was the turn of the recalled players to make a contribution which made this, the best win of the season. First, on 66 minutes, Micheal Hughes played a forward pass to Dougie Freedman, whose ball out to the left was crossed in perfectly by TOM SOARES and Mikele Leigertwood stuck out a foot to see the ball crash in off the bar from close range with Paul Robinson having no chance. We were in front!
If that wasn't enough, 4 minutes later the much improved Wayne Routledge sent a perfect ball through the Spurs backline and Danny Granville, despite having AJ and Freedman to pass to (yes the ball from Wayne was THAT good!) stuck it away for 2-0. This was turning into one of the great Palace performances.
Then, 5 minutes after that, AJ recieved the ball wide left and his run was ended by a last ditch challenge from Pedro Mendes. However it was in the box and referee Chris Foy had no option but to give us a penalty.
AJ stepped up and made it 3-0. Selhurst Park went potty and Spurs fans began leaving in thier droves. Never have I seen the Arthur Wait empty so quickly. Taunts of " You only sing when your winning" from the Spuzwits was a clear sign of thier lack of invention off the park, while on it they were not much better.
It could have and possibly should have been 4-0 when from more good play from Routledge, now popping up all over the place set AJ on the attack once again and his ball to Freedman was stuck hard but straight at Robinson. Had Dougie placed it botTOM right, it would have brought the house down.
As it was, 3-0 was an amazing score. Especially to all those who went to Eastlands last week and saw us humbled at Manchester City. We got the Dowie punch, Gabor got a picture of that as well and the general happiness would have extended all the way from Selhurst Park right the way around the globe and back again. This was a massive result and we all knew it.
We may not have signed anyone in the transfer window but we must look a lot more attractive this week, than the week before. Man of the Match? Hard when you consider that the first half was so meagre, but I am going to give it to Danny Granville.
He hardly put a foot wrong and was never beaten down the left hand side. This was his best performance of the season and his sudden improvement should be no surprise as he did the same last season. Leigertwood, Sorondo and Freedman also had good games. Mikele kept Defoe quiet, Sorondo was putting everything in front of the ball and won every challenge while Dougie laboured hard up front and never stopped.
But Danny Granville shaded it for me. More performances like that and we wont need a left back, after all.
Crystal Palace: G Kiraly, E Boyce, F Hall, G Sorondo, D Granville, W Routledge, M Leigertwood, M Hughes, T SOARES, A Johnson, D Freedman.
Subs: J Speroni, G Borrowdale, D Powell, W Andrews, V Lakis.