January 28 2005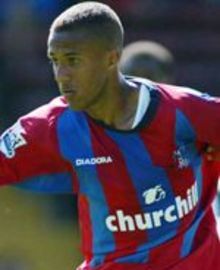 Wayne Routledge revealed he will definitely leave Palace - and nothing will change his mind.
Spurs put an improved offer for the youngster of £2m last week and after Palace turned it down, look set to land him in the summer when the fee will be set by a tribunal.
Routledge told Leo Spall of the Evening Standard: "I just feel I have reached the stage when it is right for me to move on.
"Playing for one of the Premiership's big clubs is a dream for all young players. I feel ready for the next big challenge and I want to keep improving.
"I have been at Palace a long time and have strong feelings for the club but I have made up my mind.
"I don't think I have let the club down in my time here and hopefully people will be able to understand where I am coming from."
But Routledge said the club could have handled his contract negotiations better. "The contract business has been a long, hard process," he said. "Everything has not gone as smoothly as it should have.
"It started when the club were supposed to open negotiations with me about a new contract on my 18th birthday.
"It never happened then or after we got promoted to the Premiership and I only received their contract offer at the end of December when there were a few months left on my deal.
"It would have been easier if the club had followed the normal method and spoken to my agents rather than talking directly to me.
"That is what they are there for. When you are a young player, negotiating a contract is not the easiest thing to do.
"That is what agents specialise in and I wanted the club to talk to them. It seems like common sense to me.
"Everybody has people who are their representatives. I chose my agents about three years ago and I am comfortable with them.
"If the club choose to sell me before the window closes that is up to them and I will respect whatever decision they make, but they should have respected my decision to appoint an agent."